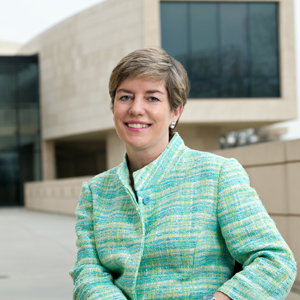 Sherburne Laughlin

Hurst Sr Prof Lecturer Emerita Department of Performing Arts
Additional Positions at AU

Director, Arts Management Program
Chair, 40th Anniversary of the Arts Management Program
Chair, Faculty Senate Committee on Term Faculty Language in the Faculty Manual

Degrees

MBA, Yale University
BA, Davidson College

Favorite Spot on Campus

Any garden on campus

Bio

Sherburne Laughlin holds an MBA from Yale University and is a cum laude graduate of Davidson College. Her nonprofit management and philanthropic career spans over 20 years of executive director and program director experience. A full-time professor since 2007 at AU, she has pioneered top-ranked courses in strategic planning, fundraising, grant writing and governance. Her consulting work focuses on issues of governance, organizational development and strategic planning and serves all types of nonprofits, arts and non-arts, large and small, national and local. She has served on many arts and humanities panels, including the DC, Montgomery and Fairfax County Arts Council panels and the national VSA arts panel. She served on the City Fund, which is awarding $15 million over 3 years to the arts and workforce development in the District of Columbia. Until recently, she was a member of the Advisory Board of Round House Theater and for 16 years served on the Board of Trustees and Executive Committee of Davidson College. Laughlin co-chaired the national conference of the Association of Arts Administration Educators and chaired the Graduate Standards Committee, which recently published the revised Graduate Standards in Arts Administration Education. Until recently, she was the President of the Association of Arts Administration Educators, the leading international scholarly association of the field. Her work on governance was recognized in her selection as the author on US arts governance in the path-breaking book International Cultural Governance published by Palgrave McMillan in 2019. She chaired the Americans for the Arts' task force on Higher Education in the Arts, which crafts the congressional legislative platform on the arts in higher education.
Spring 2023
AMGT-631 Governance and Leadership

AMGT-631 Governance and Leadership
Partnerships & Affiliations
Round House Theater
Advisory Board member, (2004-present)

Washington Area Women's Foundation
Founding Board member, (1995-2005)

Davidson College
Trustee, Executive Committee, Campus Life Committee Chair

Fairfax County Commission on the Arts
Panel member

Montgomery County Arts and Humanities Council
Panel member

Association of Arts Administration Educators
Co-Chair, National Conference, (2010)

Association of Arts Administration Educators
Planning Committee, National Conference, (2009)

VSAarts
Panel member

CityFund
Lead grant reviewer

Association of Arts Administration Educators
Immediate Past President, President, Vice President

DC Commission on the Arts & Humanities
Grants Panelist
Scholarly, Creative & Professional Activities
Professional Presentations
"Trends in Arts Management in the US"
"Arts Management and Cultural Policy in the United States"
"Global Summit on Arts Administration Networks"
The Association of Arts Administration Educators: Structure, Programs and Future
Arts Management Education in a Multicultural Environment
Arts Management Education and Risk Societies
Oh What A Beautiful Transition! Working to Governing Boards
The Learning Games: In-class Simulations and Games as Pedagogical Tools
Connecting the Dots: Building Continuity Across the Curriculum
The Arts Administration Curriculum for the 21st Century: How to Prepare Leaders for the Global Arts Economy
Supporting Emerging Arts Leaders: Case Studies from the Field
Arts Infrastructure and Funding in the US
Executive Experience
Interim Executive Director, Washington Area Women's Foundation
Executive Director, Support Center of Washington
Director, National Endowment for the Arts Advancement Program, Support Center of Washington
Director, Public Training, Support Center of Washington
Director of Development, WCPE Radio
Professional Certifications
Harvard University, Executive Program, Strategic Perspectives in Nonprofit Management