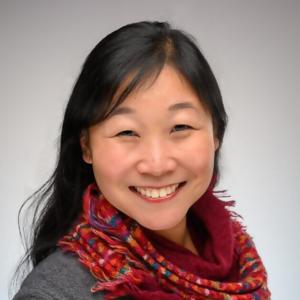 Amelia Tseng

Asst Professor Department of World Languages and Cultures
Degrees

Ph.D Georgetown University, Linguistics
M.S. Georgetown University, Linguistics
M.A. Arizona State University, Spanish Linguistics
B.A. Magna Cum Laude Wellesley College, Spanish and English

Bio

Dr. Amelia Tseng is Assistant Professor in Spanish and Linguistics. Her research addresses how language shapes and is shaped by identity across immigrant generations in Latinx diasporic contexts, focusing on multilingualism, dialect variation, discourse, and the construction of ethnoracial and cultural identity.

Dr. Tseng coordinates the AU Linguistics Program. She is Principal Investigator on the Washington, D.C. Latinx Language and Identity project (DCLLIP). She holds a research appointment at the Smithsonian Center for Folklife and Cultural Heritage, is affiliate faculty in Anthropology and the Center for Latin American and Latino studies at American University, and directed the American University Bilingual Education program from 2014-2016. Her university teaching and research have been recognized through awards from American University, Georgetown University, the Society for Applied Anthropology, and the National Science Foundation. Dr. Tseng has appeared on National Public Radio and WUSA 9.




Listen to an interview here: http://one.npr.org/?sharedMediaId=528816293:531824445
Spring 2023
SPAN-253 Spanish, Intermediate II

SPAN-456 Spanish Topics: Lang/Soc in Span Spkg World

SPAN-496 Selected Topics:Non-Recurring: Raciolinguistic Perspectives
Fall 2023
SPAN-456 Spanish Topics: Spanish Language in the U.S.

TESL-400 Principles of Linguistics
Scholarly, Creative & Professional Activities
Selected Publications
Forthcoming. Playground learning: African American English in Latinx linguistic repertoires. Journal of Language, Identity, and Education. DOI:10.1080/15348458.2023.2263568.
2023 Nativized exoticism in "el país de todas las sangres". Ethnic and Racial Studies. DOI 10.1080/01419870.2023.2243306.
2021 'Qué barbaridad, son latinos y deberían saber español primero': Language ideology, agency, and heritage language insecurity across immigrant generations. Applied Linguistics, 113-135.
2021 Tseng, Amelia and Hinrichs, Lars. Mobility, polylingualism,a nd change: Toward an updated sociolinguistics of diaspora. Journal of Sociolinguistics Special Issue on language and diaspora.  
2020 Flores, Nelson, Subtirelu, Nicholas, and Tseng, Amelia (eds.), Raciolinguistic perspectives on dual language education. Multilingual Matters.
2020. Tseng, Amelia and Hinrichs, Lars. Mobility and the English Language. In Aarts, Bas, McMahon, April, and Lars Hinrichs (ed.), Handbook of English Linguistics, 2nd ed. Wiley Blackwell.
2020    Cashman, Holly and Tseng, Amelia. Pragmatics and multilingualism. In Dale Koike and César Felix-Brasdefer (eds.), Routledge Handbook on Spanish Pragmatics (pp. 335-350). Routledge. 
2020    Identity. In Susana Eisenchlas and Andrea Schalley (eds.), Handbook on Social and Affective Factors in Home Language Maintenance (pp. 109-129). Mouton de Gruyter.
2020 Normalization of dialect translinguistics in an internally diverse global-city diasporic  community. In Jerry Won Lee and Sender Dovchin (eds.), Translinguistics: Negotiating Innovation and Ordinariness (pp. 146-160). Routledge.
2020 Advancing a sociolinguistics of complexity: Spanish-speaking identities in Washington, D.C. In Andrew Lynch (ed.), Handbook on Spanish in the Global City (pp. 330-354). Routledge.
2018    Abriendo closings in bilingual radio speech: Discourse strategies, code-switching, and the interactive construction of broadcast structures. Text & Talk, 38(4), 481-502.
2017    De Fina, Anna, and Tseng, Amelia. Narrative in the study of migrants. In Suresh Canagarajah (ed.), Handbook on Migration and Language (pp. 381-396). Routledge. Winner of the American Association of Applied Linguistics (AAAL) Book Prize 2020.
2011    DJ stances, station goals: Performing identity on a bilingual Arizona radio show. Proceedings of the 12th Symposium About Language and Society (SALSA): 2011-Austin, Texas Linguistics Forum (TLF), 54, 57-71.
2007    El paisaje lingüístico de Phoenix, AZ: una investigación preliminar (The linguistic landscape of Phoenix, AZ: a preliminary investigation). Proceedings of the University of Arizona Seventeenth Annual Symposium on Hispanic and Luso-Brazilian Literature, Language, and Culture: 2007, 11-28.  
Professional Presentations
Recent keynotes:
9th National Symposium on Spanish as a Heritage Language (NSSHL), 2022
New Ways of Analyzing Variation (NWAV) 49, 2021
California Association for Bilingual Teacher Education (CABTE)/California Council for Teacher Education (CCTE) Annual Conference. 2021
3rd International Conference on the Sociolinguistics of Immigration (SLIMIG), 2018