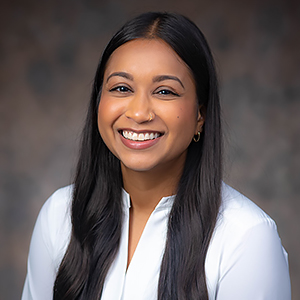 Malini Basdeo

Director of Well-Being Outreach and Prevention Services Counseling Center
Bio

Dr. Malini Basdeo is a Licensed Clinical Psychologist at the American University Center for Well-Being Programs and Psychological Services. She oversees outreach and programming for the WBC, as well as prevention services including AOD support and the Peer Health Education program. She also provides individual and group therapy, crisis intervention, and supervision. Prior to joining the AU team, she completed her doctoral degree in Clinical Psychology at the University of Hartford. She also completed her APA-accredited predoctoral internship at the University of North Carolina at Chapel Hill CAPS.


Malini's approach to therapy is integrative and grounded in client-centered and interpersonal therapies. Her professional interests include identity formation, acculturation, interpersonal relationship issues, trauma and victimization, diversity and multicultural issues, and social justice and empowerment.