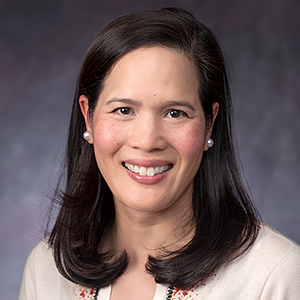 Ana Buenaventura

Staff Clinician Counseling Center
Degrees

Psy.D., George Washington University

Bio

Dr. Ana Buenaventura is a licensed clinical psychologist in the District of Columbia. She received her master's and doctorate degree in Clinical Psychology from George Washington University. In addition, she received a graduate certificate in International School Counseling from George Mason University and a Master's Degree from Johns Hopkins University in Clinical Community Counseling. Dr. Buenaventura serves as a Staff Clinician at American University's Counseling Center where she provides individual and group counseling, outreach, and urgent care services. She also trains and supervises graduate students, work that she truly enjoys. Dr. Buenaventura has provided professional services in a variety of settings and across age groups in Asia and the United States and in two languages. She has worked extensively with students on college application preparation, and on career education and counseling.

Dr. Buenaventura has many current interests including identity development and emotion regulation. She is particularly interested in international students having been one herself. She is eager to help people struggling with the after effects of physical and emotional abuse. She works to help people with stress management and the mind body connection. She is also trained in Dialectical Behavior Therapy.