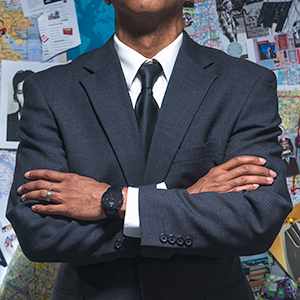 Kevin Grasty

Assistant Vice President for Creative Services University Publications
Degrees

BFA Visual Communication, Pratt Institute

Favorite Spot on Campus

Bender Arena Section 103, Row: C, Seat: 12

Book Currently Reading

Thank You for Being Late - Thomas L. Friedman

Bio

Kevin Grasty joined American University in 1983 as the lead graphic designer for undergraduate recruitment. He manages the integrated in-house creative services team of designers, writers, editors, photographer, strategists and administrative teams that support the university's strategic plan and overarching goals. Kevin manages the creative team that produces the university's flagship publication, American magazine, annual year in review report, undergraduate admissions collateral, digital advertising, and other high-visibility projects that showcase American University's incredible story. He monitors the use of AU's official logotypes, marks and the visual brand guide. He advises on creative design strategy related to integrated digital communications, and university marketing and branding initiatives. His notable efforts include: directing the redesign of American magazine (print and website), serving as the creative lead for the visual expression of american.edu, and lead designer of the AU Athletics and Recreation primary and secondary marks, and the Blue Crew spirit program wordmark. Kevin is excited about UCM's commitment to making an impact by engaging with audiences through thoughtful strategy, effective communication, and compelling creative to move the AU brand forward.
Scholarly, Creative & Professional Activities
Honors, Awards, and Fellowships
2009  Dedicated Service Award – 25 years       
2009  Service to the AU Community – special recognition          for the Web Development Team
2004  Dedicated Service Award – 20 years
1999  Dedicated Service Award – 15 years
1996  University Staff Award for Outstanding Performance
1994  Dedicated Service Award – 10 years
1991  Print Regional Design – WAMU 30th Anniversary logo
1985  Print Regional Design – Grass T Design business card
Media Appearances
Q&A with AIGA-DC April 2014
Honors, Awards, and Fellowships
2014  Dedicated Service Award - 30 years
2019  Dedicated Service Award - 35 years