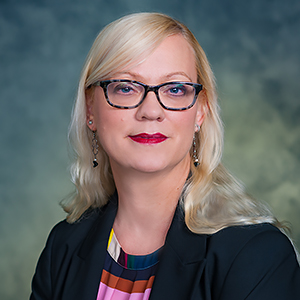 Kristi Plahn-Gjersvold

Sr. Asst. Dean, Strat. Partnerships & Internal Affairs School of Communication
Additional Positions at AU

Unit HR Representative

Degrees

MS, Organizational Development, American University, Washington, DC
BA, International Studies; BA, German, Bradley University, Peoria, IL
Certificate in German studies, Goethe Institute, Prien, Germany.
Additional studies at:
University of Vienna, Vienna, Austria /
American University, (credits toward MFA-Creative Writing), Washington, DC

Languages Spoken

German

Bio

As Senior Assistant Dean for Strategic Partnerships & Internal Affairs, Kristi provides leadership for the School of Communication's external research funding administration, execution of strategic partnership agreements, inclusion and community building efforts, full time human resource management and communication and outreach. In collaboration with the Dean and other senior administrative leadership, she creates strategies, budgets and resource scenarios for initiatives for the School's centers, labs, institutes, and special projects. Kristi collaborates with other SOC and central university colleagues on projects, grant agreements, contracts, memoranda of agreement, legal and risk management review, personnel items, and issue resolution. She oversees all full-time staff recruitment, hiring, and personnel actions as the School's HR representative.

Kristi manages the internal and external relations in the SOC Office of the Dean, ensuring excellent service to constituents and appropriate issue resolution. She provides general oversight of the SOC strategic communication, outreach and events team. Kristi has served multiple times as the chair of SOC's Diversity, Equity & Inclusion (DEI) Committee and also serves as the School's representative on a number of University committees.

Kristi brings decades of experience from her varied background in the foundation and nonprofit sectors. Prior to shifting to higher education, she managed external relations at the Benton Foundation, coordinating strategic communications and its website as well as managing grant and development relationships. Kristi worked at Very Special Arts (VSA arts) as the research and evaluation coordinator, writing and administrated private and federal grants as well as assisted in the creation of evaluation tools. At VSA arts, she created and managed an online community project and established partnerships for community model access sites for artists with disabilities. Kristi's professional portfolio also includes work in theatre and gallery management, research and editing for a human rights organization at the United Nations in Vienna, Austria, and as a public relations coordinator for a national speaker's bureau. Kristi has a lifelong interest in equity and access to education, serving as volunteer literacy tutor for at-risk children in Peoria, Illinois, and District of Columbia (DCPS) schools. For over a decade she was a parent volunteer and disability advocate at a DCPS bilingual (Spanish/English) school. She served on the board of ARTemis Arts, a nonprofit that empowers and promotes equitable opportunities for women artists.

Kristi holds a MS in Organizational Development from American University and a BA in international studies and German with a minor in creative writing from Bradley University. Kristi has also completed credits toward a Masters of Fine Arts (MFA) in Creative Writing, with an emphasis in poetry. She studied international politics, diplomacy and art history at the University of Vienna (Austria) and German linguistics at the Goethe Institute in Prien, Germany.