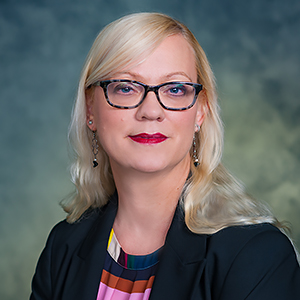 Kristi Plahn-Gjersvold

Assistant Dean of Administration and Strategic Initiatives School of Communication
Additional Positions at AU

Unit HR Representative

Degrees

MSOD, Organizational Development, American University, Washington, DC

BA, International Studies; BA, German, Bradley University, Peoria, IL

Certificate in German studies, Goethe Institute, Prien, Germany.

Additional studies at: University of Vienna, Vienna, Austria / American University, (credits toward MFA-Creative Writing), Washington, DC

Languages Spoken

German

Bio

In her role as Assistant Dean for Administration & Strategic Initiatives, Kristi provides leadership for the School of Communication's external research funding administration, execution of strategic partnership agreements, inclusion and community building efforts and full time human resource management from the Office of the Dean. In collaboration with the Dean and other senior administrative leadership, she creates strategies, budgets and resource scenarios for initiatives for the School's centers, labs, institutes, and special projects. Kristi collaborates with other SOC and central university colleagues on projects, grant agreements, contracts, memorandums of agreement, personnel items, and issue resolution. She oversees all full-time staff recruitment, hiring, and personnel actions as the School's HR representative. Another key role for Kristi is working with the SOC and AU community on development and implementation of activities, events, trainings, and processes to improve inclusive excellence and celebrate the community's diversity. She manages the internal and external relations in the SOC Office of the Dean, ensuring excellent service to constituents and appropriate issue resolution, and supervises AU's Game Lab administration. Kristi also serves on a number of university committees.