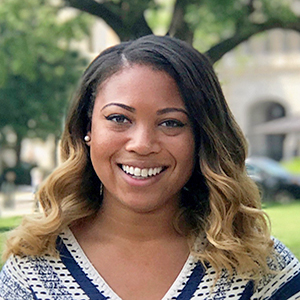 La'Nita Johnson

Part Time Staff School of Education
Additional Positions at AU

Interim Graduate Program Coordinator - ITEP

Degrees

MA, International Training and Education, American University

BA, Hispanic Studies and International Studies, Pepperdine University

Languages Spoken

Spanish and French

Bio

La'Nita Johnson serves as the Interim Graduate Program Coordinator for the International Training and Education Program (ITEP) in the School of Education. Her responsibilities include student advising, facilitating marketing and communications and program event planning. Prior to this position, La'Nita was a student of the program and served as a Graduate Research Assistant to two SOE professors.

Her research interests include positive youth development programming, gang prevention initiatives for Northern Triangle immigrant youth, transitional justice and collective memory, and education for countering violent extremism.