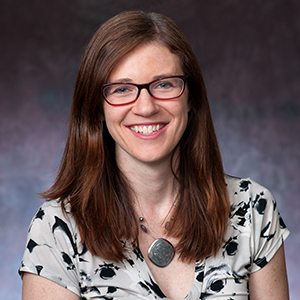 Megan Litke

Director, Sustainability Programs Office of Sustainability
Degrees

Masters of Liberal Arts in Sustainability and Environmental Management, Harvard University Extension School, 2009 Bachelors of Science in Management in Accounting, Tulane University, A. B. Freeman School of Business, 2003 Adjunct Faculty Teaching Certificate, University of Richmond, 2014 Culinary Arts Certificate, University of Richmond, 2012

Bio

Megan Litke, LEED AP O+M, joined the Office of Sustainability at American University in August 2014. Originally hired to manage the university's green buildings initiative, Megan is now Director of Sustainability Programs and oversees all sustainability related initiatives, including efforts to achieve carbon neutrality by 2020 and sustainability outreach and education efforts. Prior to joining the Office of Sustainability at American University, Megan was the Sustainability Manager at the University of Richmond, where she led the University's Office for Sustainability for four years. Megan previously volunteered on sustainability efforts with the New Orleans Recovery School District and the UMass-Dartmouth Office of Sustainability. Megan also worked as a financial analyst at Harvard University.
Scholarly, Creative & Professional Activities
Professional Presentations
 Parking Woes and Sustainable Solutions. Smart and Sustainable Campuses Conference. Baltimore, MD. Apr 2016 and Big Ten & Friends University Transportation & Parking Conference. College Park, MD. Apr 2016.
Competitive Edge: Student Leadership and Professional Development Through Campus Competition. Advancement of Sustainability in Higher Education (AASHE), Minneapolis, MN, Oct 2015
It's Not Easy Being Green: Strategies for Aligning Finance, Facilities, & Sustainability. Sightlines Insights Summit. Newport, RI. Nov 2015.
UR vs VCU: A Campus ConseRVAtion Nationals Cross-Town Competition. Association for the AASHE, Portland, OR. Oct 2014.
Panel Presentation: Creating "Living Laboratories": The Transformative Use of Campus Facilities. Energy & Sustainability Conference. Richmond, VA. Feb 2014.
Designing and Implementing a Multi-Part Campaign to Promote Sustainable Behavior. Smart and Sustainable Campuses. Bethesda, MD. Apr 2013.
Panel Presentation: The Roadmap to Increased Waste Diversion. AASHE. Los Angeles, CA. Oct 2012.