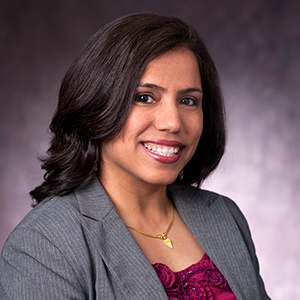 Preeti Menon

Part Time Staff School of Public Affairs
Degrees

Graduate Certificate in Social Justice, expected date 2023 - Harvard Extension School, Division of Continuing Education
M.A. Criminal Justice - John Jay College of Criminal Justice
B.A. Criminal Justice & Criminology - University of Maryland

Bio

As a Practitioner-in Residence at American University's School of Public Affairs (SPA), Preeti Menon oversees training and technical assistance initiatives. She is passionate about bringing collaboration and communication as important bases for the success of any initiative. She has extensive experience in justice system policy development and criminal justice program operations as well as project management. With over twenty-years of experience in working with treatment courts, she has worked closely on several treatment court initiatives, including the development of the first Racial and Ethnic Disparities Program Assessment Tool for treatment courts. She is currently working with local treatment courts across the country interested in administering the tool. She is the Principal Investigator and project director of the Supreme Court of Ohio's Racial and Ethnic Disparities Initiative. She has presented at several national and local conferences, including the National Association of Drug Court Professionals' Annual Conferences, Tribal Healing to Wellness Court Enhancement Training, the National Association of Counties, and the National Sheriff's Association.

Providing tangible leadership tools & skills, she worked with JustLeadershipUSA (JLUSA) on a leadership training curriculum for returning citizens who are emerging leaders heading efforts in community organizing and advocacy. During her professional career, she has also worked on several problem-solving courts initiatives, which includes overseeing, MOSAICS (Maximizing OVC's Survivor Assistance in Court Settings), the National Drug Court Resource Center, Juvenile Drug Treatment Courts TTA, transferring and launching the Veterans Treatment Courts newsletter, consulting on a community court mentoring project for the Center for Court Innovation (CCI), and supporting a drug court training and technical assistance (TTA) project. In addition, she created the framework for Right to Counsel National Campaign and demonstrated the importance of collaboration at all levels. Prior to joining American University, she served as a consultant with AU for BJA's Drug Court TTA Project and, previously, at the U.S. Department of Justice for eight years as a Policy Advisor on Adjudication for the BJA and as a Social Science Program Specialist for OJJDP. Prior to joining the federal government, she worked as a Planning Specialist on contracts with the MD Dept of Juvenile Justice and the U.S. DOJ, National Institute of Justice.

She has co-authored and provided writing and editing support for research and analytical papers on treatment courts, criminal justice case management and integration. In addition, while working with Federal Data Corporation as a Research Assistant, she provided research support for the supplement to the Surgeon General's Report on Mental Health: Culture, Race, and Ethnicity, and the Surgeon General's Report on Youth Violence.