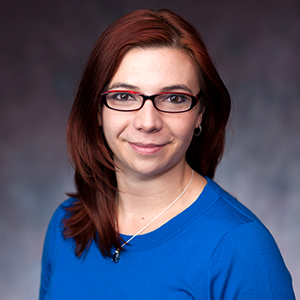 Amanda Choutka

Creative Writing
Degrees

B.A. in English, M.F.A. in Creative Writing

Student Organizations

Alternative Spring Break - Chicago

Favorite Spot on Campus

3rd floor of the AU Library, Center for Community Engagement and Service (MGC 273)

Bio

Amanda Choutka holds a M.F.A. in Creative Writing from American University and a B.A. in English and Creative Writing from Dickinson College. She is working on a collection of nonfiction essays about family and autism.

Amanda Choutka's teaching and research interests include the rhetoric of community engagement and activism, research literacy, first generation college students, service-learning, community-based learning and research, social justice, social media activism, and teaching students with disabilities/disabled students. She has formal training in working with students with disabilities and has worked extensively with the Academic Support and Access Center and the Learning Services program. She's also a Faculty Fellow who works on supporting community-based learning and research with The Center for Community Engagement and Service and the Working with Washington Initiative.

Before graduate school, she worked for Horton's Kids, a comprehensive afterschool program that serves children in Wellington Park in Ward 8.

She teaches in the Writing Studies Program and has been teaching a community-based and service-learning WRTG 101 for 10 years. She has partnered with local community partners such as Horton's Kids, Martha's Table, THRIVE DC, D.C. Reads, JumpStart, KidPower, D.C. Central Kitchen, and Iona Senior Services.

She won the Community Engagement Award from Campus Compact Mid-Atlantic in 2020 and the Karin Walser Commitment to Service Award from Horton's Kids in 2022.

She is also an active member of the Community-Based Learning Faculty Advisory Committee and Community-Based Research Scholars Advisory Committee.
Spring 2023
CORE-105 Complex Problems Seminar: Doing Better At Doing Good

WRT-101 College Writing Seminar

WRT-103 College Writing Seminar

WRT-194 Comm Service Learning Project: College Writing Seminar
Summer 2023
WRT-025 STEP Pre-College Writing Sem
Fall 2023
CORE-107 Complex Problems Seminar: Doing Better at Doing Good

WRT-100 College Writing

WRT-102 College Writing