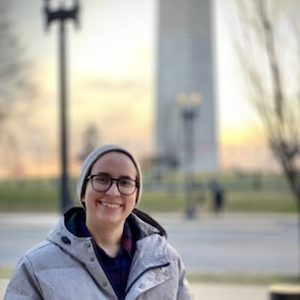 Emily Bello-Pardo

PHD.POLS
Degrees

M.A. in Latin American and Caribbean Studies -- Florida International University (2015)

B.A. in Political Science -- Florida International University (2013)

B.A. in International Relations -- Florida International University (2013)

Bio

Emily D. Bello-Pardo is currently pursuing a doctorate in Political Science at American University, and specializes in American and Comparative Politics. Her research interests are political behavior, political communication, and public opinion. More specifically, her work examines the attitudinal impacts of online dis- and mis- information, online discursive incivility, and public policy shifts. She uses experimental and computational social science approaches to explore these topics in the United States and Latin America. In the summer of 2017, Ms. Bello-Pardo was selected as one of eight Google NewsLab Fellows and worked at the Pew Research Center's Journalism Project.  Before coming to AU, Ms. Bello-Pardo obtained a MA in Latin American and Caribbean Studies from Florida International University (FIU), where she held a Research Fellowship at the Latin American Marijuana Research Initiative. In this role, she studied Uruguay's marijuana legalization process and public opinion surrounding this policy shift. Previously, she received dual BAs in Political Science and International Relations from FIU, where she was inducted Phi Beta Kappa, graduated magna cum laude, and was President of the Debate Team. Born in Caracas, she served in 2012 as the US National Coordinator of VotoJoven, a Venezuelan student organization that promoted voting among the youth and equal access to civil and political rights in that country. Her journalism work has been printed in national news outlets in Venezuela and Colombia and published in digital outlets in the US.