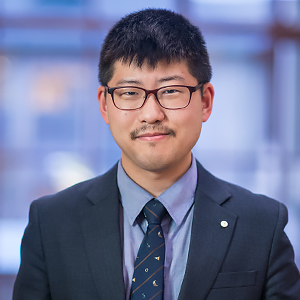 Degrees

MPhil, International Relations, American University, SIS

MA, Political Science, Fordham University

BA, Magna Cum Laude, Political Science,  American University, SPA

Bio

Coercive Diplomacy and Alliances

Coercive Diplomacy is a tactic of persuasion used not only amongst adversaries, but also amongst allies. Yet, even when used by the stronger ally, coercive diplomacy has not always led to compliance by the weaker party. The existing alliance literature has explained this puzzle mostly by focusing on the credibility of the threat. Jong Eun Lee's research instead focuses on the receiving party - the weaker ally - and that ally's assessment of the impact of compliance on strategic concerns and domestic political control.


Lee holds an MA in Political Science from Fordham University, a BA in Political Science from American University and from 2011-2014 served as an intelligence officer in the Air Force of the Republic of Korea.


Presentations:

"US Mediation Failure in the Chinese Civil War: Using Prospect Theory and Asymmetrical Negotiations to explain the Alliance Restraint Disequilibrium", ISA-NE Regional Conference, November 2017.


"To Comply or To Not Comply: Explaining the ROK's Noncompliance with US-led Armistice Talks during the Korean War," AU Annual PH.D. Tri-School Conference, March 2021

"Resisting Allied Coercion; Why the Small States Defy their Great Power Allies in War: A Case Study from the Korean War," Midwest Political Science Association Conference, April 2022

Publications: "What the next South Korean President can learn from Moon's diplomatic challenge", The Diplomat. July 7, 2021.


"Afghanistan's Collapse Is a Rude Awakening for South Korea", The National Interest. Aug. 26, 2021.

"South Korea's Presidential Candidates Offer Contrasting Visions for Foreign Policy", The National Interest. Nov.9, 2021

"What South Korea can learn from India on Diplomatic Balancing". The Diplomat. Dec.22, 2021.

"Could a Korean-style Armistice End the Russia-Ukraine War?" The National Interest. May 12, 2022.

"Learning to Live with a Nuclear North Korea" The Diplomat.  June 21, 2022.

"Will the Russian People Defeat Putin's War Machine?" The National Interest. Sep.28, 2022.

Spring 2022
SIS-689 Foreign Pol: Theor Decisn Mkng

SISU-210 Peace, Global Sec & Conflt Res
Fall 2022
SISU-210 Peace, Global Sec & Conflt Res