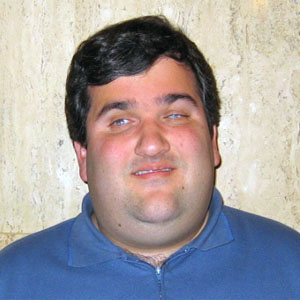 Bio

Marc Medwin received his undergraduate degree in English literature from Ithaca College in New York. He went on to earn a MA and PhD in musicology from the University of North Carolina at Chapel Hill, completing a dissertation on the late works of John Coltrane. Marc became an assistant professor in the music program at American University in the fall of 2008. Additionally, he maintains an active career as music journalist, writing for such magazines as Cadence, Coda, Signal to Noise and for the jazz journal Jazz Perspectives. Marc has also played keyboards in several experimental ensembles in Chapel Hill, Durham and Raleigh, North Carolina. His research and performative interests include contemporary classical music, improvised music and electro-acoustic music.
Summer 2020
PERF-320 History of Rock Music
Fall 2020
PERF-110 Understanding Music

PERF-320 History of Rock Music

PERF-323 History of Music II
Spring 2021
PERF-205 Masterpieces of Music

PERF-205 Masterpieces of Music

PERF-321 Evolution of Jazz and Blues
Partnerships & Affiliations
Committee member of Audio Technology Course Development Group, Department of Performing Arts
American University (fall 2008-present)

American Musicological Society
Member (2003-present)
Scholarly, Creative & Professional Activities
Research Interests
Marc Medwin specializes in 20th and 21st century music, notably in jazz, rock and contemporary classical music. He contributes articles and reviews to scholarly journals and to more popular publications focusing on contemporary music, often interviewing the subjects of his research.
Grants and Sponsored Research
University of North Carolina at Chapel Hill Music Department Research Grant, spring, 2008.
University of North Carolina Graduate School Transportation Grant to Leeds International Jazz Conference, UNC at Chapoel Hill, 2007.
UNC Chapel Hill Music Department Research Grant, 2007.
Work In Progress
John Coltrane and the Avant-Garde 1961-1967. [Book proposal to be submitted by May 2009 to the University of Michigan Press]
Selected Publications
"Attaining Unity: Self-Reference in the Music of john Coltrane," Jazz Research Journal, Special Issue on John Coltrane's life and Music, forthcoming summer 2009.
"Anthony Braxton: Complete Arista Recordings 1974-1980," Jazz Perspectives, Vol.3 Issue 1, 2009.
"Mark Dresser and Denman Maroney: Live in Concert," Kadima Collective KCR18 [Liner Note of Compact Disc] Jan.2009.
"Art Davis 1934-2007," Coda, Nov./Dec., 2007.
"Orrin Keepnews' Collection," All About Jazz New York, No.66, Oct.2007.
Professional Presentations
"Sound, Vision and Malleability: Bill Dixon's Music for the Free Conservatory Orchestra of the University of the Streets," American Musicological Society National Meeting, Nashville, TN, Nov. 6-9, 2008.