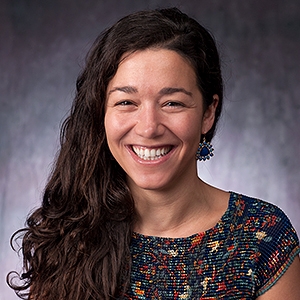 Marguerite Jimenez

Political Science
Degrees

PhD, Political Science, American University<br>
MA, International Service, American University<br>
BA, Music and Ethnic Studies, Lesley University

Favorite Spot on Campus

The track.

Bio

Marguerite Rose Jiménez has a Bachelor's degree in Music, a Master's degree in Foreign Policy, and a PhD in Political Science from American University's School of Public Affairs. Since moving to Washington, DC in 2005, Marguerite has worked as a consultant for the Council on Foreign Relations and the Institute for Policy Studies, served as program coordinator for Executive Training programs for the U.S. Department of State, directed undergraduate study abroad programs in Havana, Cuba, and worked on a range of Latino outreach and educational initiatives.

Her research focuses on policy innovation and diffusion, and comparative public policy in lower and middle-income countries with a specialty in public health policy in Latin America and the Caribbean. Additional research interests include policy implementation, diplomatic history, global health, international organizations, and vaccine diplomacy. Marguerite recently completed a second edited volume on contemporary Cuba, a monograph on vaccine diplomacy for the National Academy of Sciences, and was named an American Political Science Association Congressional Fellow for 2014-2015.
Scholarly, Creative & Professional Activities
Selected Publications
"Disaster, Disease, and Environmental Degradation: U.S.-Cuban Cooperation as a Bridge to Reconciliation," William LeoGrande and Marguerite Jiménez, in Cuba in a Global Context: International Relations, Internationalism and Transnationalism, edited by Cathie Krull (forthcoming University Press of Florida, 2012)
"U.S.-Cuba Relations: Prospects for Cooperative Coexistence," William LeoGrande and Marguerite Jiménez, in Fifty Years of Revolution: Perspectives on Cuba, the United States, and the World, Edited by Soraya M. Castro Mariño and Ronald W. Pruessen (forthcoming University Press of Florida, 2012)
"Cuba's Pharmaceutical Advantage," Marguerite Jiménez, North American Congress on Latin America, Report on the Americas, July/August, 2011
"Sexuality and Security: A Critical Report on the Summit of the Americas," Marguerite Rose Jiménez, Journal of Sexuality and Social Policy Research, (2010) 7:142–146
"Cuban Medical Internationalism: Central America a Decade after Hurricane Mitch," John Kirk and Marguerite Jiménez, Journal of Iberian and Latin American Research, 15:2, December 2009
"Washington is Odd Man Out at OAS," Op-Ed, The Progressive Media Project, June 3, 2009
A Contemporary Cuba Reader: Reinventing the Revolution, edited by Philip Brenner, Marguerite Rose Jiménez, John M. Kirk, William M. LeoGrande, Rowman & Littlefield Publishers, 2007
"U.S. Policy on Cuba: Beyond the Last Gasp," Philip Brenner and Marguerite Jiménez, North American Congress on Latin America NACLA, Report on the Americas, January/February, 2006; reprinted in Real World Latin America, Dollars and Sense Press, 2008
"Redistricting: In Canada a Better Option," featured Letter to the Editor, Washington Post, March 17, 2006
"The Answer Lies Within: Fixing our Image Abroad by Fixing Our Democratic Deficiencies," Marguerite Rose Jiménez, Swords and Ploughshares Journal of International Affairs, Vol. XVI, No. 2, Spring 2007
"The Political Economy of Leisure: Tourism in Cuba," in A Contemporary Cuba Reader: Reinventing the Revolution, edited by Philip Brenner, Marguerite Rose Jiménez, John M. Kirk, William M. LeoGrande, Rowman & Littlefield Publishers, 2007 
Honors, Awards, and Fellowships
Provost's Office Dissertation Award, American University, Fall 2012
International Student & Community Service Center Award for Service to DC Community, 2010
Eagle Endowment Community Service Award for the Latino Youth Conference, American University, 2010
Merit Graduate Honor Award, School of Public Affairs, American University, 2008-2012
Harold Davis and John Finan Memorial Prize for Outstanding Scholarship in Latin American Studies, American University, May 2008
McNair Scholar's Merit Award and Fellowship, School of International Service, American University, 2005-2007
Best Entering Student Talent (BEST) Award/Scholarship for vocal performance, Berklee College of Music, 2000-2001 and 2003-2004