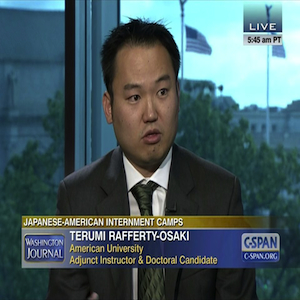 Terumi Rafferty-Osaki

Adjunct Instructor Department of History
Degrees

MA, The Richard Stockton College of New Jersey
BA, Boston College

Favorite Spot on Campus

Reeves Field

Favorite Place in Washington DC

John F. Kennedy Center for the Performing Arts

Bio

Terumi A. Rafferty-Osaki is a doctoral candidate and adjunct instructor at American University. He is currently working on his dissertation, " 'Strictly Masculine:' Reforming and Performing Manhood at Tule Lake 1942-1946." He has appeared on C-SPAN's Lectures in History discussing the "Integration of Baseball" and on Washington Journal for a segment on "Due Process and Internment." Aside from his academic pursuits, he is currently training for the TCS New York City Marathon, an avid baseball fan, and is a classically trained singer.