Alumni
For Capitol Hill Interns, Here's Someone to Know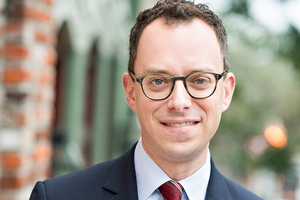 Adjunct Professor Adam Sharon is no stranger to what makes up the heartbeat of the nation's capital. That is, with nearly a decade's worth of experience on Capitol Hill working as the senior-most communicator for foreign affairs, Professor Sharon is a known thought-leader on the complex relationship between politics and the media. Throughout the fall semester, Sharon's Washington Semester Program students will leave the classroom to go behind the scenes, meeting DC's movers and shakers of politics, media, and strategic communications.
"No matter what field you want to pursue - law, business, politics, non-profit work - the ability to communicate your priorities, your interests, your message...cuts across every field," explains Sharon.
Although his hands-on class emphasizes skills that pertain to writing press releases, talking points, op-eds, and other editorial priorities, Sharon assures that one of the most essential skills used in any professional field is the ability to "be on-point and on-message…So,[our class] works on exercises pertaining to that, and then we spend a lot of time actually seeing how this all comes together," explains Sharon.
Admittedly, Sharon says that the special access students are given to professionals from all over DC could "be an overwhelming experience sometimes...but above all it's exciting. I think that's what really gets students. They realize that this is actually what it looks like to work on Capitol Hill, to work for a news channel, to be a reporter -- it helps open eyes up."
In the past, students have visited the State Department briefing room to hear from communications professionals; attended a taping of Meet the Press and shook hands with Chuck Todd; visited the studio of Face the Nation on CBS; chatted with Chris Wallace on the set of Fox News Sunday; and networked with communications directors from prominent DC-based think tanks.
"At the end of the day, it's important to realize that everybody who has worked in DC probably started where that nervous student started once upon a time. It's important to recognize that there's a network of people who want to help you and guide you," says Sharon.
No matter where students may come from, Sharon assures that everyone has an indirect connection to someone living and thriving in Washington DC, and through those connections Sharon encourages student interns to begin building their professional network little by little:
"Be it because they went to your school, they're from your city, or they're [connected to a] cultural or religious network...whatever your tie is, you know somebody here. It's important to start putting yourself out there...and the rest takes care of itself."
In fact, a recent study by The Bloomberg Journal argues that some of the most highly sought-after skills that are the hardest to find are communication skills, leadership skills, and creative problem solving -- and more than half of the study's sample size of job recruiters agreed that such skills are crucial across every field -- from consulting, to healthcare, to politics. Networking early and often is just one way to enhance these crucial skills over time.
Aside from meeting face-to-face with professionals in the field, one of the cornerstones of the Political Communications elective is to bring the news of real world into the classroom -- especially since so much of political communications involves an open ear to whatever is going on in the world at the moment when big news happens.
"[Last year's Presidential election] was a great laboratory to study how Hillary Clinton communicates, how Donald Trump communicates and what traditional and non-traditional communications look like today. That was a very exciting time, because it made everything we were studying real. Students could see how things were unfolding [while having] an academic classroom setting to process what was going on as it was happening."
Professor Sharon's class is one among countless courses that expose students to real-world skillsets through experiential learning. As a 70-year-old program with intensive seminar concentrations coupled with competitive internship experience, The Washington Semester Program empowers a thriving global community of alumni who are passionate about paying their expertise forward to young professionals in the formative years of their career development. Whatever students may be up to this semester at the School of Professional & Extended Studies, they can be assured that they are among thought leaders who are eager to champion their interests in hopes that they lead to a fulfilling career.