Alumni
WSP Alumna Casey Mendoza: Living the Life of a True Journalist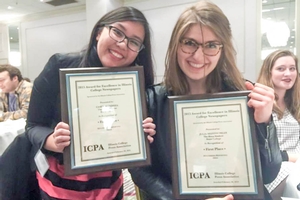 Talent can be limited by limited resources, but that was not the case for Casey Mendoza.
"When we filmed, we were using our own cameras, our own mics, and one other camera borrowed from a professor," said Mendoza. "Meanwhile, schools like DePaul or Northwestern were working with equipment that equaled our budgets for the year."
A video on undocumented students at Knox College that she shot and edited with a fellow student reporter won First Place in Multimedia Reporting from the Illinois Collegiate Press Association. The win was completely unexpected, and not the reason she began the project in the first place. As editor-in-chief of her home school's newspaper, The Knox Student, Mendoza simply wanted to create videos of stories that resonated with the community. She learned those skills while studying Journalism and New Media in the Washington Semester Program (WSP).
Mendoza entered the WSP in the spring of 2015 to pursue her interest in journalism. She had only minored in the subject at Knox College due to the small size of its journalism program. As a student of political science, she decided that entering the Washington Semester Program was her best option for immersing herself in both disciplines.
Referring to American University, Mendoza said, "AU was able to introduce me to so many different people active in the industry. It helped me understand better how the industry is evolving and transitioning to include multimedia and new technologies."
While in DC, Mendoza also honed her pre- and post-production skills while interning at a documentary film company called The Biscuit Factory. Through this WSP required internship experience she acquired the necessary skills and platform to tell the stories of people who are regularly denied attention and air time.
Her introduction to multimedia and real-world film work started with her decision to attend the Washington Semester Program. Mendoza acknowledged that Professors Klein and Ivory at American University showed her that young people have the power to change how journalism works.
"They taught me not to be scared of change, even though other people are," said Mendoza "They see that technology, video, and social media can help journalism become more accessible and democratic for audiences and readers."
Mendoza hopes to make her career in video production for news organizations and documentaries. Currently, she is the post- baccalaureate fellow at Knox College's journalism department. She is working on an oral history project and doing freelance work for her local newspaper, The Register-Mail.
"I would never have been on this track if it weren't for Klein and Ivory," Mendoza said. "The fact that I have their support and advice helps me keep going as well."
Casey Mendoza illustrates that talent contributes toward person's success, but she also demonstrates that support and building a professional network are essential for long-term career development. The Washington Semester Program provides a nurturing environment for all this and more.
Casey Mendoza was awarded First Place in Multimedia Reporting by the Illinois Collegiate Press Association for a video she shot and edited on undocumented students at Knox College.