Alumni
Discovering a Passion for Nonprofit Work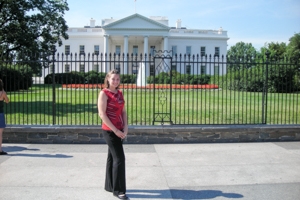 People from all over the world want to visit Washington, DC at least once in their lives. While the District is home to American politics, history, and culture, it is especially attractive to college students who want to live in an international capital city as they set the foundation to their careers. This was the case for Kristen Hecht.
Kristen, who is originally from Texas, attended the Washington Semester Program in 2007 with a concentration in foreign policy. She was interested in gaining professional experience in one of among countless political and governmental institutions in DC. While in the program, Kristen explored possible career paths, met leaders within her field of interest, and learned more about foreign policy - in both academic and professional settings. Once she got a taste of living in DC as a student, she knew she wanted to move back after college to start her career. "The Washington Semester Program provided a perfect blend of professional and academic exposure while living in the nation's capital," said Hecht. "I learned so much, but most of all I learned that D.C. was the place for me to live if I wanted a career in my field of interest."
After graduating with a bachelor's degree from the University of North Texas in 2008, Kristen returned to DC to complete several internships, which led to her first full-time position. She also decided to return to American University to complete a master's degree in International Politics at the School of International Service. "It might be scary or intimidating at first, but I would encourage Washington Semester students to take advantage of everything that the program and D.C. have to offer.. You'll leave the program with new networks, professional experience, and hopefully a clarified perspective on your personal and professional goals."
Nearly ten years later, Kristen still bumps into former classmates from WSP in the city. During the program and from subsequent internships, she realized her passion for working in the non-profit sector. Kristen is now a Program Director for the B. A. Rudolph Foundation, where she manages the scholarship program that provides financial aid for women in unpaid public service or STEM internships. In this role, she has helped over 30 young women get their professional start in DC.