Alumni
WSP is Your Key to Professional Success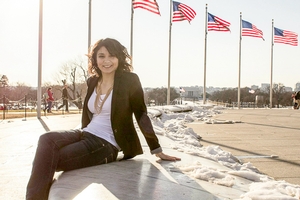 Every year at Willamette University, alumni from the politics program come back to give meaningful advice to current students. Meg Cusick recalls one alumni sharing that they wished they would have gone abroad instead of coming to Washington DC for a semester. Meg Cusick was among the those students hearing this advice. Instead of taking this to heart, she considered the exact opposite.
"To this day, I am so happy not to have taken his advice," recalls Cusick. "I think everyone has to follow their own heart, and mine led me to DC."
When making the decision, she decided that wandering around the streets of Europe would not get her to where she wanted to be in life. So, Cusick participated in the Washington Semester Program with an American Politics concentration. She was certain about a career in politics, and an experience in DC would be the perfect environment to foster this interest. As a double major in Politics and Civic Communications and Media Studies, Cusick wanted to be near people who shared and celebrated similar fields.
"Big cities can sometimes feel so lonely, but as a young and ambitious student of politics, I was never alone," she shared. "We learned from people who had been there, people who we wanted to be someday. There's nothing to compare to an experience like that."
During her time in the WSP, Cusick was introduced to key players in the political arena who lectured on electoral politics. One day, her class even sat in on a congressional committee hearing where Speaker of the House Paul Ryan introduced and thanked her class for attending. During another class visit, Cusick heard immigration policy remarks from Congressman Luis Gutiérrez just moments before he had to leave for the floor vote. The class also sat in during a Supreme Court discussion where Cusick saw one of her personal heroes, Justice Ruth Bader Ginsberg. The class even heard from the woman who wrote speeches for Hillary Clinton when she was the First Lady and Secretary of State. The American Politics seminars gave Cusick the once-in-a-lifetime opportunity to live among the country's most influential and prolific leaders who operate in the DC area.
"Too often, higher education these days is based on theoretical discussion, especially politics," she said. "[During my program,] we didn't write essays, we wrote memos. We didn't sit in a classroom, we sat around conference tables. We didn't discuss the pros and cons of Marxist theory; we spoke to real economists about social security."
All semester long, Cusick interned at the National Foundation for Women Legislators (NFWL). She admits that choosing to intern with a small non-profit over a congressional office was a difficult decision. However, she knew that working at a smaller office provided a hands-on experience. Moreover, she had the opportunity to pitch a national movie night program in honor of Alice Paul for Women's History Month. By the end of the project, hundreds of women had attended over 60 movie nights hosted by state and local female representatives from around the country.
"I was given real opportunity at NFWL, and I worked very hard to make sure I didn't waste it," said Cusick. "Getting that internship gave me real work experience that helped me get a job right out of college." Cusick ended up working part-time for NFWL the summer after her internship ended and attained the position of Communications Director the next summer. Her experience at NFWL while being surrounded by ambitious mentors and colleagues has inspired her to want to run for office.
Cusick noted that many of her friends are struggling in the post-grad world due to high competition in the job market. After graduation, Cusick was already working for the Confederation of Oregon School Administrators on Professional Learning, Communications, and Advocacy. She hopes to make a difference in state and public education in Oregon, her home state. She realizes she could not have gained her current position right after graduating from college if she had not participated in the Washington Semester Program. "If you know what you want in this life, if you know who you are and what your goals are, this program is for you. If you're pretty sure but you don't know, this program helps you figure it out by giving you a real inside look at what life would be like should you choose that particular path."
Read a blog about her experience in DC.