Alumni
For Prospective Fulbright Applicants, a Washington Semester Alum Offers Advice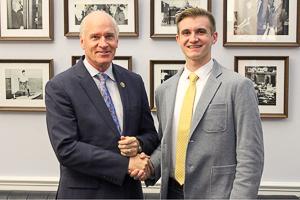 The term "changemakers" is often used today to describe people who seek to make a difference in our constantly innovating world. Conor McCadden, a Washington Semester Program alum from Fall 2016, doesn't call himself a changemaker - but we do. As part of the lauded Fulbright Scholars Program, McCadden will be doing research at a think tank in Bulgaria at the Center for the Study of Democracy, beginning this fall.
"I consider myself someone who one day hopes to be able to call themselves [a changemaker]. Flashy job titles or large salaries do not make us more compelling 'changers.' As long as you wake up each day with the goal of making the world a better place, no matter how big or small of an impact you can realistically make."
At the Center for the Study of Democracy, McCadden analyzes connections that the Russian economic footprint has between the energy sectors of the UK, France, and Germany. Conor believes his experience in a full-time research environment is valuable not only to the community in Bulgaria but also to his future. He plans to refine transferable skills to bring back to the US.
"[During the Washington Semester Program], I learned valuable professional skills such as how to conduct myself in a workplace and networking strategies, as well as important tips for job search techniques. Resume and cover letter writing were two of the most important."