Alumni
Washington Semester Program Student Interns at the World Bank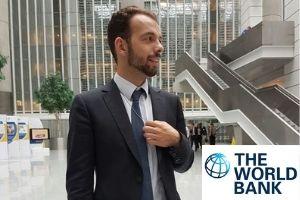 Sebastian Urthaler heard about the Washington Semester Program from an alumnus he played soccer with at his home school in Germany. At Zeppelin University, American University's partner school in Germany, Urthaler is majoring in politics, administration, and international relations. During the Washington Semester Program, he chose the Global Economics and Business concentration because of his interest in the inter-connectedness between politics and the economy. During his time in DC, Urthaler had the opportunity to intern at the World Bank.
"I am convinced that participating in the program, and especially being at the World Bank for four months, will help me to be more analytical and reasoned when it comes to understanding and solving certain problems," said Urthaler.
Urthaler explained that the complex, multicultural environment of his internship has helped him build his communication and other professional skills.
"At the World Bank, I am learning to be more flexible, work on several issues at the same time, and work with people with different backgrounds and expectations," said Urthaler. "I feel like I am being challenged in a positive way every day, making me better able to coordinate with different people and deal with a variety of tasks."
At the World Bank, Urthaler has worked on many projects, including collaborations with others. One project he is working on is drafting a toolkit for the Corporate Governance of State Owned Enterprises in South and East Asia. Another project he contributes to is the development of a Human Centered Business Model that concentrates on sustainability and social issues. Urthaler has done much research on the frameworks and principles of both projects to help the World Bank in their efforts. Urthaler said he would not recommend the Washington Semester Program to somebody who just wants to go abroad to have a good time.
"I think the Washington Semester Program can be a very valuable experience for hardworking people who are serious about it, people who will make the most of the opportunity to meet so many interesting people during their four months in DC," he added.
In January, Urthaler returned to his home school in Germany to finish his degree. He hopes to continue working part-time for the World Bank while he finishes his studies. He is thankful for his experience in the U.S., especially during an election year. He is grateful that the Washington Semester Program gave him the opportunity to come to DC, improve his English, and gain important insight and experience for his future career.