Sam Hanna joins American University's School of Professional & Extended Studies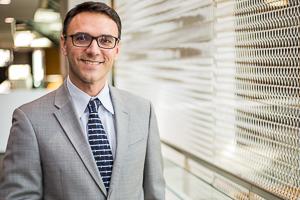 We are pleased to announce Sam Hanna has been named Associate Dean of Graduate Professional Studies at American University's School of Professional & Extended Studies (SPExS). His leadership will help us expand and explore opportunities for adult learners across a range of professions and help ensure that we meet learners where they are, by developing and working in partnership across enterprise to create timely solutions that address workforce needs.
"Two years ago, when SPExS launched [Graduate Professional Studies], we focused on creating online graduate degree programs geared toward mid-career professionals in some of the fastest growing industries in the US," said Jill Klein, Interim Dean of SPExS.
"Today, we continue to fine tune our offerings to reach a broad range of working professionals in both degree-seeking and non-credit programs. We believe that with this approach we are creating unique opportunities that directly address the needs of [our students], which allows them to succeed and advance in their careers," she said.
Hanna, having joined a school that is already known for its interdisciplinary and innovative programming, views his approach to its graduate programs as "a reinvention of what we do." That mindset folds perfectly into what the mission of SPExS is overall.
Hanna has both an academic and business mindset: "I see ideas, I see opportunities, and I like to capitalize on them," he says. "If we learn what potential employers need in terms of future skill sets, then we could build programs that provide these skill sets to our students."
From his experience, the biggest issues that an academic institution must address with their students is not only workforce preparedness, but also the role that new technology will play in myriad industries, and the role that resilience plays in individual and group contexts.
"These days, technology is moving so fast that by the time industries implement new systems to streamline their efforts, something new comes up. Resilience [in regard to] being able to adapt to these changes is a constant in business."
Prior to his role at American University, Hanna taught Healthcare Management and Policy & Strategy at George Washington University School of Public Health. He was also the Program Director of the Master of Science in Management of Healthcare Informatics and Analytics (MHIA), a program he designed "from the ground up."
Before operating in academia, Hanna held key leadership roles at PricewaterhouseCoopers (PwC), Deloitte, and the Dana Farber Cancer Institute, roles in which he brought cross-disciplinary skills and technologies to each organization. He has also owned, led, and participated in multiple entrepreneurial ventures and has served as an adjunct professor at several colleges and universities.
In step with the school's overall goals, Hanna will lead the way in building a suite of academic programs that reflect the depth and breadth of innovation currently being cultivated. Moving forward, "we have to think more broadly about how our value transcends the school and goes across the entire University," says Hanna. "There is so much potential as a university to play in a space that we have not played in the past. I look forward to expanding our impact in the Health Management program but also extending that to our programs in Human Resources, Instructional Design, Evaluation, and Sports Management."