Research
Celebrate Research at AU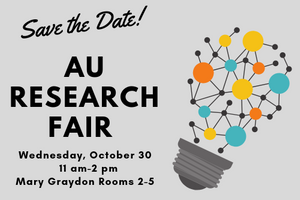 Learn about research at American University at the 3rd Annual Research Fair on Wednesday, October 30, 2019, from 11:00 am-2:00pm in the Mary Graydon Center rooms 2-5. The fair is a great opportunity for faculty, staff, and doctoral students to visit research-related resource tables featuring the AU Library, CTRL, and departmental and central research administrators at AU.
Representatives from the National Science Foundation (NSF), National Endowment for the Humanities (NEH), DC Government, and the National Aeronautics and Space Administration (NASA), as well as non-federal sponsors will provide remarks in a panel discussion and be available to answer questions.

Want to learn about technology transfer management? Representatives from TreMonti Consulting will be present to advise attendees in areas such as software tools, organization structure, methodologies, IP management processes, spin-offs, joint ventures, licensing structure and practice, sale of intellectual property, and other issues relating to the management of technology transfer.
Heavy hors d`oeuvres will be provided. The agenda will be available on the registration site on Monday, October 21st.