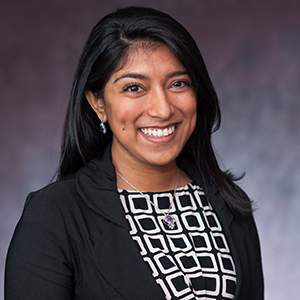 Davina Durgana

Adjunct Instructor School of International Service
Additional Positions at AU

Doctoral Recipient with Distinction, School of International Service

Degrees

Doctoral Recipient in International Affairs with Distinction, School of International Service, American University in Washington, D.C.; M.A. in International Affairs, Conflict Resolution and Civil Society Development, The American University of Paris in Paris, France; Masters I Certificat en Sciences Politiques, Université Panthéon-Sorbonne Paris I in Paris, France; B.A. in International Affairs, Conflict and Security, The George Washington University

Languages Spoken

French - fluent, English - fluent, Spanish - intermediate/fluent, Urdu - intermediate

Bio

Davina P. Durgana, PhD is an award-winning international human rights statistician who has developed leading global models to assess risk and vulnerability to modern slavery. Dr. Durgana is a Report Co-Author and Senior Statistician on the Walk Free Foundation's Global Slavery Index.

She is the American Statistical Association's 2016 Statistical Advocate of the Year, an active member of Statistics without Borders, and a Forbes Top 30 Under 30 in Science for 2017 for her work on statistical modeling, human security theory, and human trafficking.

Dr. Durgana is affiliated with SIT Graduate Institute in D.C. Dr. Durgana was selected as a Google Fellow for Technology and Social Change for her work in Human Trafficking and Technology. She was also awarded with the Trafficking in America Task Force Award for Service for her contributions to the Anti-Trafficking Field in the United States and was named as a Disruption Awards Foundation Fellow for 2018. She serves on several expert groups for the United Nations, the Department of Justice, and the National Science Foundation.

In 2015 she received the University Award for Outstanding Scholarship at the Graduate Level from American University where she received her PhD in International Relations with Distinction. She received her Masters degrees in Paris, France while studying human trafficking at the Sorbonne and the American University of Paris, and her Bachelor's degree at George Washington University's Elliott School of International Affairs. She has also recently been recognized as the American University School of International Service Alumna of the Year for 2016, the Recipient of the 2017 Distinguished Alumna Award for the American University of Paris, and the George Washington University Recent Alumni Achievement Award Recipient for 2017.

Dr. Durgana will be featured in the upcoming 2021 children's book, Wonder Women of Science: Twelve Amazing STEM Geniuses Who Are Currently Rocking the World by Candlewick Publishers highlighting the work of today's most outstanding women scientists. She is also a mentor with FabFems, working to encourage young women around the world and the United States to pursue studies in STEM.