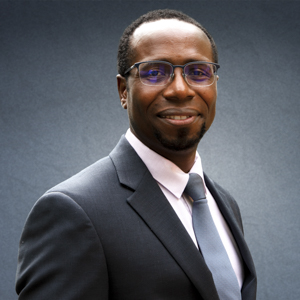 Patrick Hakizimana

Adjunct Professorial Lect School of International Service
Degrees

PhD Conflict Analysis & Resolution - George Mason University
MA International Peace & Conflict Resolution - Arcadia University
BA Political Science - Eastern University

Bio

Dr. Patrick Hakizimana is a scholar and practitioner of peace, global security and conflict analysis and resolution. He has teaching experience at American University and George Mason University in negotiation, global security, conflict analysis and resolution and intercultural communication. His research is focused on conflict and climate driven human migration and its impacts on individuals, communities and systems. Patrick's doctoral dissertation examined the role of former refugees in in peacebuilding, democracy and post conflict reconstruction. He is currently working in a book examining the intersection of identity, the refugee experience and international law in different geopolitical contexts. His professional experience includes providing consultant services to the International Foundation for Electoral Systems (IFES) in conflict and climate change displacement and elections, working with the Center for the Study of Gender and Conflict at George Mason University. Prior to his doctoral program, Patrick managed refugee services for individuals from over 45 countries at Nationalities Services Center (NSC) in Philadelphia. He additionally worked at a displaced persons camp in the DRC.

Patrick earned his Master's in International Peace and Conflict Resolution from Arcadia University and his PhD in Conflict Analysis and Resolution from George Mason University where he spent time studying conflicts in the Ukraine, Israel and Palestine, Northern Ireland and across Africa.
Spring 2023
SISU-210 Peace, Global Sec & Conflt Res
Fall 2023
SISU-210 Peace, Global Sec & Conflt Res