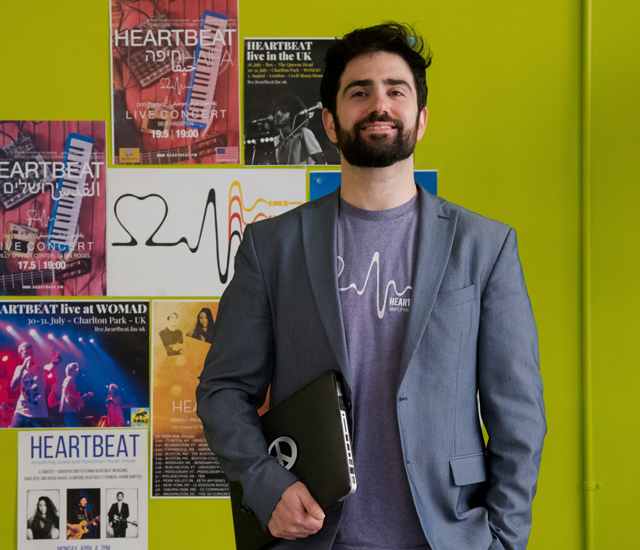 Aaron Shneyer, SIS/MA '14
I'm bridging a divide between Israel and Palestine through music.
Through a nonprofit I founded, Heartbeat, I bring together high-school musicians from Israel and Palestine to compose music, learn about each other, and reshape the otherwise divided world around them. These youth form relationships based on equality—a sharp contrast to the inequality that exists outside of Heartbeat.
15 credits of concentration & elective courses allow SE students to pursue their passions.
Core values: Collaboration over competition, falling in love with problems not solutions, and small wins over master plans
The Social Enterprise program has an average of 10 students per cohort
Frequently Asked Questions
Careers in social enterprise start with students making a commitment to tackle difficult and often intractable social issues and to meet global problems head-on with sustainable and innovative business solutions. The program is geared toward preparing action-oriented doers—people who start their own organizations or have the knowledge and skills to make existing ones run better. If you are motivated along these lines, the SE program can serve as an incubator for a social enterprise you might create and run, perhaps prior to graduation. You will, in-effect, create your own job, having learned how to approach potential funders and start a self-sustaining "more-than-profit" organization.
Alternatively, you might choose to contribute problem solving and leadership expertise to existing social enterprises, funders, consultants, incubators, and infrastructure. One of the largest sources of employment opportunities in this field will be the thousands of new social enterprises created worldwide each year concerned with disaster relief, education, environment, fair trade, internet and mobile phone access, health, human rights, micro-credit, and other poverty-reduction strategies.
Looking for more information or help? SIS has a dedicated career development center to assist current students and alumni.
The School of International Service (SIS) is a founding member of the prestigious Association of Professional Schools of International Affairs (ASPIA). While we have more than 20 different master's degree programs ranging from national security to ethics and peace, SIS's unifying theme since our founding has been service.
As such, we teach social enterprise (SE) with an accent on the "social." That means our central emphasis is on social innovation designed to tackle pervasive global challenges. We selectively draw from the private sector and adapt business skills and tools that will help us achieve this goal. The SE program gives attention to management skills, but considers profit to be just one outcome of our efforts and not the primary goal. This is a distinctive feature of the SE program.