Office of Graduate Academic Services
4400 Massachusetts Avenue NW
Washington
,
DC
20016
United States
Focus your Studies
The required core courses offered through our doctoral program will equip you with knowledge and expertise in the major theories and methodologies of the field. You'll work closely with a faculty advisor to create an individualized program of electives. Courses are organized around your choice of a thematic concentration. 
Complete your degree in three years
In contrast to the traditional 9-month-per-year schedule, your annual course of study takes place over 11 months, including faculty supervision and mentoring via formal course work, organized research group meetings, and online collaboration. The accelerated structure of your program allows you to complete your degree in three years.
You'll take six required courses, three each in the fall and spring semester. Depending on your past master's coursework and professional experience, you may be able to petition for credit for methods and/or statistics course work, substituting an advanced methods course or other elective. The required teaching seminar prepares you to work as a teaching assistant in an undergraduate course during your second year of coursework. Students who have prior college teaching experience or who have already taken a similar teaching seminar as part of their master's program can place out of this course, substituting an additional elective. In the summer immediately following your first year, you'll enroll in one course for credit and participate in research group meetings.
In the fall, you'll take two electives plus a teaching seminar. By the end of your fall semester, you'll be expected to have gained approval and to have finalized the four faculty members of your doctoral committee, with at least one member being from outside of the School of Communication. At the beginning of your spring semester, you'll begin your qualifying exams. This process takes approximately one month from the assignment of questions to a successful written and oral defense. You will also take a seminar, "Advanced Research and Project Development," that will guide you in developing your dissertation proposal. By the end of the spring semester or beginning of the summer, students are expected to have successfully defended their dissertation proposals and to spend the summer focused on dissertation research.
In the fall and spring semesters, you'll register for dissertation research credits and also participate in a seminar titled, "Principles of Doctoral Research," which will provide a collaborative setting to gain feedback, guidance, and mentoring on approaches to project design, data collection, analysis, interpretation, writing, and time management. During the fall and spring semesters, you are also expected to be applying and interviewing for jobs, with your research groups serving as outlets for "mock" job interviews and other forms of professional development and guidance.
A Passion for Storytelling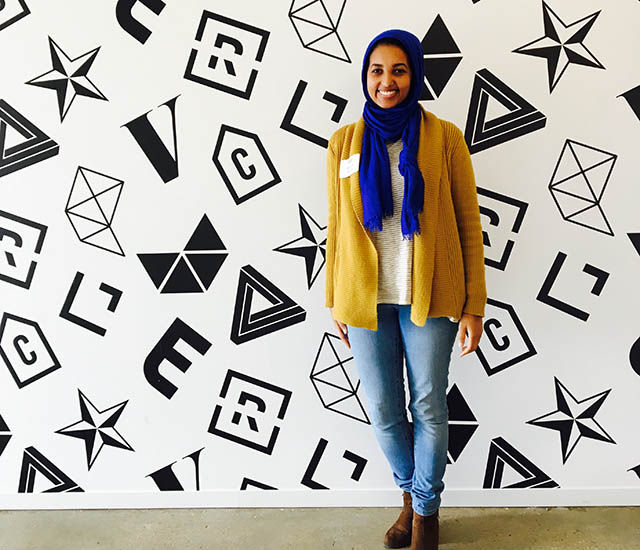 Nesima Aberra, SOC/MA '17
There are a lot more opportunities out there to create something that matters.
Nesima Aberra loves storytelling, but believes we need to expand where and how stories are told and who tells them. At AU, she explored how media shapes the way we understand our world through innovative, thoughtful, and relevant stories. Through her Dean's Internship at VOX, she's learned how to find compelling human interest angles in more complex news events. Now she's more excited than ever to use literary journalism to change the way people think and feel and help make our society more informed and empowered.
Frequently Asked Questions
In addition to the teaching seminars and teaching assistantships that are part of the regular doctoral curriculum, The Art of Teaching is a one-credit course offered each spring semester for PhD students who want to learn more about educational pedagogy. The course was originally designed by American University's former provost, Milton Greenberg.
Previously known as the Greenberg Seminars for Effective Teaching, this course complements the PhD academic experience, providing hands-on, practical introduction to professional development and classroom techniques. PhD students can participate at any time during their PhD program. There is no tuition fee for the course.