After Hours and Weekend Activities
Activities will be updated when additional special events or opportunities become available. All listed activities are included in the housing and dining fee per two-week, three-week, and four-week sessions. Students who commute to class daily may sign up on the first day of the session for activities and pay $25.00 per activity.


Session 1 - Sunday, June 26

• 12 pm - 4 pm Students fly into DCA or train into Union Station
• 1 pm - 4 pm Students living on campus check in and tour AU's campus
• 6 pm Ice breakers, Pizza Welcome Dinner, Orientation to AU


Welcome to American University! Students living on campus arrive today. Those needing a ride from Reagan National Airport or Union Station should arrive between 12:00 p.m. and 4:00 p.m. The Teaching Assistants will meet you at the gate! (We must have flight arrival information in advance.) After arrival, check into Anderson Hall. Then take a tour of the campus and participate in our pizza welcome dinner.

Monday, June 27

•  8:30 am Welcome Reception in McKinley for morning classes
•  12:30 pm Welcome reception in McKinley for afternoon classes
• Dinner at Z-Burger then stroll over to tour the National Cathedral

Students and parents are welcome to join us for the welcome reception on the first day of classes to meet their professors and teaching assistants. After classes are over, students will visit the National Cathedral, an aesthetically beautiful building, located in Northwest Washington, and just a short walk from the American University campus.


Tuesday, June 28

• Pick up a picnic dinner to enjoy in Lafayette Park

• Monuments at Night! Visit the White House, Lincoln Memorial, Washington Monument and other DC can't miss monuments

Wednesday, June 29

• Dinner on campus or in Tenleytown

• Movie screening on campus TBA

Thursday, June 30

• Dinner near the National Zoo

• Visit the Smithsonian National Zoological Park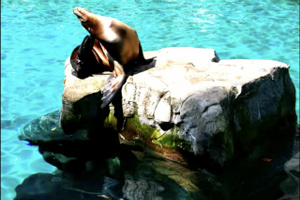 Enjoy a warm summer evening at the Smithsonian's National Zoo and explore the indoor and outdoor exhibits that feature over 2,000 mammals, birds, reptiles and more. Wander through the zoo grounds and see the famous pandas.

Friday, July 1

• Grab food in Tenleytown then head back to campus for kickball/tennis/volleyball (rain date for Monuments at Night!)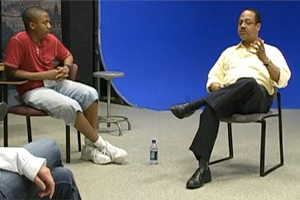 Saturday, July 2

• Visit the Newseum, DC's most interactive museum with a view of the Capitol
• Get active with a paddle boat ride in the Tidal Basin


The Newseum is DC's most interactive museum on all things news and media related. The museum features the front pages of local, national and international newspapers, a Pulitzer Prize winning photography exhibit, a 9/11 exhibit and part of the Berlin Wall.
Sunday, July 3

• Get a behind-the-scenes look at Washington Nationals Communication Strategy and enjoy an afternoon ball game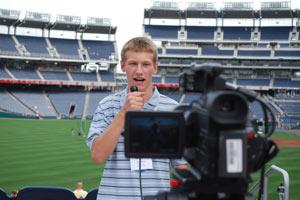 Monday, July 4

• 4th of July in DC! Enjoy the Smithsonian Museums, the Folklife Festival and fireworks from the Washington Monument

Tuesday, July 5

Play games and watch a movie on campus
Wednesday, July 6

• Enjoy historic Georgetown

• Movie premiere TBA

Thursday, July 7

• Dinner
• Kickball and Talent Show


Time to revisit your favorite gym class game… KICKBALL!!! That's right - we'll be organizing a program-wide kickball game on an official NCAA-size baseball field. The winners of the kickball game will get bragging rights. Then it's time for the DWC Talent Show - the perfect opportunity to show off your skills and creativity.

Friday, July 8

• 9:00 am Presentations & Screenings (Families Welcome)
• 12:00 pm Session 1 students check out and depart
• 6:00 pm Remaining students attend a film screening.


Today is the day we have all been waiting for; the showcase of all your work! Students, friends and families are invited to join us on campus at American University at 9:00 a.m. to hear presentations, watch student films, view photography and share experiences from session one of Discover the World of Communication.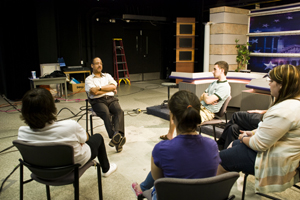 Saturday, July 9

• Cupcake Tour to find the best cupcakes in DC
• Visit a Smithsonian Museum

• Attend a WNBA game


Tour one of the amazing Smithsonian museums. Just a short walk from the National Mall is Union Station—definitely not just a train station anymore! It now holds plenty of shops to browse and restaurants to dine at.