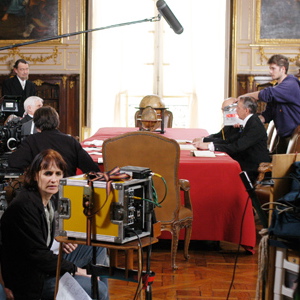 Adele Schmidt

Adjunct Professorial Lect School of Communication
Degrees

MA, Political Science, Rheinische Friedrich Wilhelm University Bonn, Germany
BA, German & Spanish Philology, Rheinische Friedrich Wilhelm University Bonn, Germany
BA, Film & Video Production, National Council for the Arts, Mexico City

Bio

Adele Schmidt is an adjunct professorial lecturer of the Film and Media Arts Division. She is a film & video producer, director and editor who has won numerous awards in both documentary and fiction films, including TIVA-DC's Peer Award, the U.S. International Film and Video Festival Award, the Telly Awards and the Gabriel Award. She is co-founder of Zeitgeist Media LLC, an independent production company that has been releasing the music documentary series on progressive Rock, "Romantic Warriors - A Progressive Music Saga", which includes the Krautrock Trilogy. She is co-founder of Docs In Progress an organization that creates community through documentary. Originally from Germany, Adele taught film and video production at the National Center for Cinematographic Studies, Mexico City. Currently Adele teaches graduate and undergraduate film and video production courses at SOC. Adele has served as a panelist for the Arts and Humanities Council of Montgomery County (Maryland), reviewing applications in the disciplines of writing, philosophy, history, and media arts. Since 2020, Adele Schmidt is a panelist for the Maryland State Arts Council, reviewing applications for the Arts in Education Teaching Artist Roster.
Spring 2023
COMM-661 Developing Nonfiction Prods
Fall 2023
COMM-631 Film/Video Prod & Direction