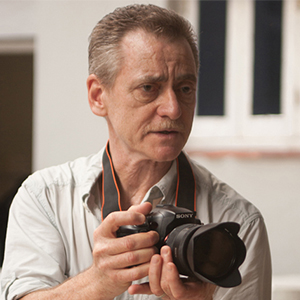 William Gentile

Journalist in Residence School of Communication
Additional Positions at AU

Bio

Bill Gentile is a full-time Senior Professorial Lecturer and Journalist in Residence in the Film and Media Arts Division of the School of Communication. He is an independent, national Emmy Award-winning journalist and documentary filmmaker. His career spans four decades, five continents and nearly every facet of journalism and mass communication. He covered the U.S.-backed Contra War in Nicaragua and the Salvadoran Civil War in the 1980s; the U.S. invasion of Panama; the 1994 invasion of Haiti, the ongoing conflict with Cuba, the 1990-91 Persian Gulf War and the subsequent wars in Iraq and Afghanistan. He's worked across Latin America and the Caribbean, and in Ivory Coast, Guinea, Sierra Leone, Chad, Angola, Rwanda and Burundi. His book of photographs, "Nicaragua," won the Overseas Press Club Award for Excellence, Honorable Mention. He is a pioneer of "backpack video journalism" and author of the highly acclaimed "Essential Video Journalism Field Manual" and its Spanish-language version, "Manual Esencial de Produccion Video Periodismo." He teaches the first-ever Spanish-language class at AU's School of Communication (SOC), "Backpack Documentary en Español." He is the director, executive producer and host of the documentary series, FREELANCERS with Bill Gentile. He engineered the School of Communication's 2015 partnership with the Pulitzer Center on Crisis Reporting and is the driving force behind that initiative. He helped found, and is the faculty advisor of, the AU student chapter of the National Association of Hispanic Journalists (NAHJ), the organization's first student chapter in the nation's capital. Gentile collaborates on filmmaking with the university's Center for Latin American and Latino Studies (CLALS). His recent work includes "Fire and Ice on the Mountain," about the diminishing glacier at Huaytapallana, Peru, and its impact on the local population's spiritual relationship with the environment. He also produced "When the Forest Weeps," a short film that examines how Ecuador's Kichwa Indians struggle as their deep spiritual relationship with the Amazonian rain forest diminishes in a clash with the forces of so-called modernity. In 2013, he shot, produced, wrote and narrated a three-part film series on religion and gangs in Guatemala. They are, "I. The Gangs," "II. The Researcher," and "III. The Pastor." Bill Gentile began in 1977 as reporter for the Mexico City News and correspondent for United Press International (UPI) based in Mexico City. He covered the 1979 Sandinista Revolution in Nicaragua. He spent two years as editor on UPI's Foreign Desk in New York, then moved to Nicaragua and became Newsweek Magazine's Contract Photographer for Latin America and the Caribbean.