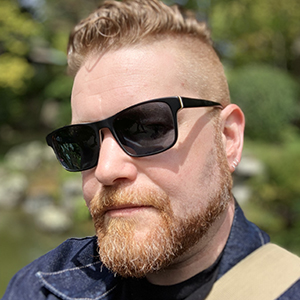 Kyle Brannon

Asst Professor SOC - Film and Media Arts
Additional Positions at AU

Associate Division Director, Film and Media Arts

Degrees

BA, Integrative Arts, Penn State University

BA, French Culture & Language, Penn State University

MFA, Film and Electronic Media, American University

Favorite Spot on Campus

The Dav

Favorite Place in Washington DC

The Black Cat, 14th Street

Book Currently Reading

Eileen by Ottessa Moshfegh, and likely a big stack of comic books

Bio

For over a decade Kyle "Kylos" Brannon has performed as a VJ, or live video artist, at clubs, crafting live video mash ups for DJs including Moby, MSTRKRFT, Nadastrom, Jesse Tittsworth and Will Eastman. He's performed at 930 Club, U Street Music Hall, Ram's Head Live, The Black Cat, Jefferson Theater, NYC's Highline Ballroom, and others. He is a company member with Rorschach Theatre and designs video projections for plays, including, 410[gone] , Reykjavik, Annie Jump and the Library of Heaven, She Kills Monsters, and The Toxic Avenger Musical. Also with Rorschach Theatre, he is on the creative team for Psychogeographies, a 7 month long storytelling site specific experience that explores DC history, while following an ever evolving story, which culminates in a live performance. He designed video for the live performances of Distance Frequencies and Chemical Exile. Currently he is working as media designer and a writer for Psychogeographies Season 3, Dissonant City. Throughout 2020/21 Kylos worked as lead designer for the Center for Environmental Filmmaking's Media Report, doing both the print layout and the web & mobile site.

He has created installations and live video performances, including immersive experiences for Little Salon DC, a solo exhibit titled Forgetting is Normal with the Anacostia Arts Center, and an original theatrical performance piece with Cultural DC's Source Festival, titled Exquisite Depths. Kylos is a Professor in the School of Communication at American University and serves as the Associate Division Director for Film & Media Arts, and advisor for AU's chapter of Delta Kappa Alpha. Every Spring, Professor Brannon produces and directs the American Visions Awards, SOC's film awards ceremony. Kylos has run workshops for DC Shorts, South Asian Film Festival, Anne Feren Teaching Conference, UFVA Conference, and the Smartphilm Festival. He has also served as a judge or panelist for the DC Commission on Arts and Humanities, DC Webfest, DC Shorts, TIVA Awards, CILECT Student Awards, Smartphilm Fest, and the Illinois Arts Council. In Sept of 2022, Zelleman Studios and Smartphilm Festival sponsored Kylos to travel to Addis Ababa to mentor young filmmakers as part of the Ouatup incubator program. While there he also hosted the Smartphilm Fest and assisted in the media programming.

Prior to becoming a full-time professor, Kylos spent 6 years producing media for exhibit spaces and museums including The Smithsonian, The Civil Rights Museum of Topeka Kansas, Historic Jamestowne, and The Great Lakes Science Center. That experience has informed his ideas for live video performances and installations. Other relevant credits include Producer for the NBC-DC web series Stage Fright (winner of 3 LA Webfest Awards), Director of the music video for Will Eastman's So Damn High (Remix), Co-Director of An Impression: Dischord Records for The Goethe Institute and Co-Author of the text book Visual Literacy from Kendall Hunt Publishing.
Spring 2023
COMM-105 Visual Literacy

COMM-651 Colloquium: The Story of Film
Fall 2023
COMM-105 Visual Literacy

COMM-250 Digital Imaging