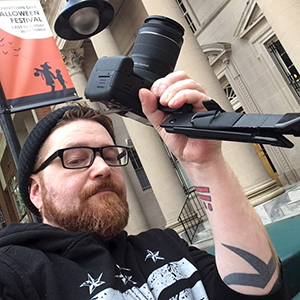 Kyle Brannon

Assistant Professor School of Communication
Degrees

BA, Integrative Arts, Penn State University

BA, French Culture & Language, Penn State University

MFA, Film and Electronic Media, American University

Favorite Place in Washington DC

The Black Cat, 14th Street

Book Currently Reading

The Goldfinch by Donna Tartt and likely a big stack of comic books

Bio

For over a decade Kyle "Kylos" Brannon has performed as a VJ, or live video artist, at clubs, crafting live video mash ups for DJs including Moby, MSTRKRFT, Nadastrom, Jesse Tittsworth and Will Eastman. He's performed at 930 Club, U Street Music Hall, Ram's Head Live, The Black Cat, Jefferson Theater, NYC's Highline Ballroom, and others. As a video projection designer, he works with Rorshach Theatre to integrate video projection into stage plays, including, 410[gone] , Klexography 2018, and Reykjavik. Currently his work can be seen in Annie Jump and the Library of Heaven running at the Atlas Performing Arts Center until May 19, 2019. He has created installations and live video performance pieces, including immersive experiences for Little Salon DC, a month long solo exhibit titled Forgetting is Normal with the Anacostia Arts Center, and an original theatrical performance piece with Cultural DC's Source Festival, titled Exquisite Depths. For the month of March, he will be part of a three person designed video installation at U Street Music Hall. Kylos is a Professor in the School of Communication at American University and serves as the Associate Division Director for the Film & Media Arts Program, and advisor for AU's chapter of Delta Kappa Alpha. Every Spring, Professor Brannon produces and directs the American Visions Awards, SOC's film awards ceremony, which will be celebrating its 40-th year in 2019. Prior to becoming a full-time professor, Kylos spent 6 years producing media for exhibit spaces and museums including The Smithsonian, The Civil Rights Museum of Topeka Kansas, Historic Jamestowne, and The Great Lakes Science Center. That experience has informed his ideas for live video performances and installations. Other relevant credits include Producer for the NBC-DC web series Stage Fright (winner of 3 LA Webfest Awards), Director of the music video for Will Eastman's So Damn High (Remix), Co-Director of An Impression: Dischord Records for The Goethe Institute and Co-Author of the text book Visual Literacy from Kendall Hunt Publishing.
Spring 2021
COMM-105 Visual Literacy

COMM-331 Film & Video Production I

COMM-651 Colloquium: The Story of Film
Fall 2021
COMM-250 Digital Imaging

COMM-331 Film & Video Production I

COMM-416 Topics in Film and Media Arts: The Radical Image