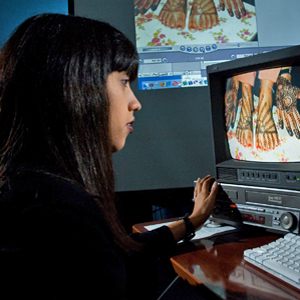 Leena Jayaswal
Associate Professor
School of Communication
Leena Jayaswal is a full-time professor of Film and Media Arts. She is head of the photography concentration. Her photography has been nationally recognized in galleries around the country. She has worked with famed photographer, Mary Ellen Mark. Her films have been screened in various film festivals around the country. An Impression: Dischord Records was honored as the Best Selected Juror Film at the 2nd Annual Small International Film Festival at the Berkeley Art Center, in California. Crossing Lines was picked up for national distribution to public television affiliates around the country and has been shown on 70 different stations as well as numerous juried international film festivals. This film won numerous awards, including Best American Documentary at the Heart of England Film Festival and The Bronze Palm Award, Mexico International Film Festival. She was awarded the prestigious Gracie Allen Award from the American Women in Radio and Television. Crossing Lines is available for distribution by New Day Films.

Degrees

BA Visual Media and Anthropology, American University; MFA Photography, Maryland Institute College of Art
Loading ...

OFFICE

SOC - School of Communication
Mary Graydon - 331 C
Wednesdays 2-5:00 pm, Thursdays 2-5:00 pm
FOR THE MEDIA

To request an interview for a
news story, call AU Communications
at 202-885-5950 or submit a request.
---
Partnerships & Affiliations
Filmmaker, D.C. culture projects

Member

Member
Member

NOVA Photography

Member, Advisory Board
Teaching
Spring 2014

COMM-330 Principles of Photography

COMM-527 History of Photography
Scholarly, Creative & Professional Activities
Research Interests
Professor Jayaswal's research mainly involves the South Asian Diaspora, although she is also interested in music documentaries as well. She is a photographer, artist and filmmaker.
Media Appearances
Darshan TV, "Crossing Lines", Nov. 2008
India in New York, "A Moving Ode to Art" by Arthur Pais, Nov. 2008
India Abroad "Film Festival Showcases Variety in Indian Cinema" by Arthur Pais, Oct. 2008
India-West "Crossing Lines Documentary Chronicles Identity Search" by Ashfaque Swapan, Sept. 2008
India Abroad "Indira's Crossing" by Arthur Pais, Aug. 2008
Films/Documentaries
www.crossinglinesthefilm.com: 30 minute documentary aired on over 40 PBS affiliate stations. Distributed by NETA (National Educational Telecommunications Association) and has been accepted in 18 juried film festivals, including the International Film Festival of South Africa, Heart of England International, Mahindra Indo-American Arts Council Film Festival, NY, GiRL Fest, Hawaii, Cross Cultural Film Festival,and the DC Asian Pacific American Film Festival
An Impression: Dischord Records 15 min documentary screened at 10 juried festivals including the National Museum of Women in the Arts, Our City Film Festival, DC Meets Delhi, Berkeley Arts Center, Miami Independent Film and Music Festival, DC Independent Festival, and Woodstock Museum
www.seizethis.net a work in progress 30 min documentary on eminent domain abuse
Exhibitions/Performances
Solo Show, "din ke sapne"  (Dreams of the Day) International Visions Gallery, Washington DC 2004
Group Show, "Remix: East-West Currents in Contemporary Art" Arlington Arts Center, Virginia 2006
Group Show, "Photography NOW" Kentucky, 2007
Group Show, "Harmony of Hues" Boston 2006
Group Show, "Annual National Juried Competition Photography" New Jersey 2004
Honors, Awards, and Fellowships
Best Documentary Award (for Crossing Lines) at California Arts Association Digital Short Film Festival
Best Selected Juror Film (for An Impression: Dischord Records) International Film Festival, Berkeley Art Center
Official Photographer for the Patsy Cline Museum
Grants and Sponsored Research
The Rivers Project- AU Faculty Research Award
Crossing Lines- Department of Education Grant
Crossing Lines- AU Faculty Research Award
Professional Services
Juror for Photographic and Video Contests- (UFVA-Documentary Film, The Exposure Group, The National Oceanic and Atmospheric Administration, ITVA- International Television Association, CINE Golden Eagle ASEAN Photography Festival)
Co-curator for Visual Griots Exhibition at the Kansas Public Library and The National Museum of Natural History, The Smithsonian
Northern Virginia Community College Advisory Board for Photography
Multimedia
Partition Revisited, iDMAa Conference, Georgia 2008
Partition Revisited, UFVA Conference, Colorado 2008
The New F- Word, (with Prof. Brigid Maher) Visions in Feminism Conference, Washington DC 2008
The New F-Word, iDMAa Conference, Philadelphia 2007
The New F-Word, National Museum of Women in the Arts, Washington DC 2007
The New F-Word, UFVA Conference, Texas 2007
Coding Identity: The Symbolic Deconstruction of Hurricane Katrina, UFVA Conference, California 2006
Coding Identity: The Symbolic Deconstruction of Hurricane Katrina, iDMAa Conference, Ohio 2006