Project on Civil Discourse
4400 Massachusetts Avenue NW
Washington
,
DC
20016
United States
The Project on Civil Discourse Peer Facilitator is an undergraduate student staff member within the School of Public Affairs. The primary function of the Peer Facilitator is to facilitate discussions amongst students on various topics to support students in building their voices. The Peer Facilitator fulfills a vital role by encouraging and supporting students in understanding discourse not only as a matter of rights, but of responsibilities, values, and opportunities. The Peer Facilitator will guide students in reflecting on their values and ideals, and in developing their goals for listening, communicating, and engaging with their fellow classmates in a way that services those goals and contributes to the learning community.
The Peer Facilitators will lead discussions and workshops on various subjects related to active listening, speech, and civil discourse. Peer facilitators are expected to attend events hosted by the Project on Civil Discourse and will lead discussion sessions and trainings, offering their unique perspective on how they use their individual voices to further their values and goals.
The Peer Facilitator must be a part-time or full-time undergraduate student enrolled in a degree-granting program at American University. Peer Facilitators must be a sophomore or higher (determined by academic credit) during the semester in which they serve unless an exception has been made. The Peer Facilitator must be in good judicial standing with American University.
Peer Facilitators must maintain a cumulative GPA of 3.0 while employed. Grade Point Averages will be verified at the beginning of the semester that the Peer Facilitator is assigned to co-facilitate. All Peer Facilitators must attend and fully participate in staff training during the beginning of the fall semester.
If you would like to learn how to help others understand how to find their voice and promote civil discourse, apply to become a Peer Facilitator. We are currently accepting applications for our 2019-20 positions. If you plan to study abroad either semester, you are still encouraged to apply. Applications are accepted on a rolling basis.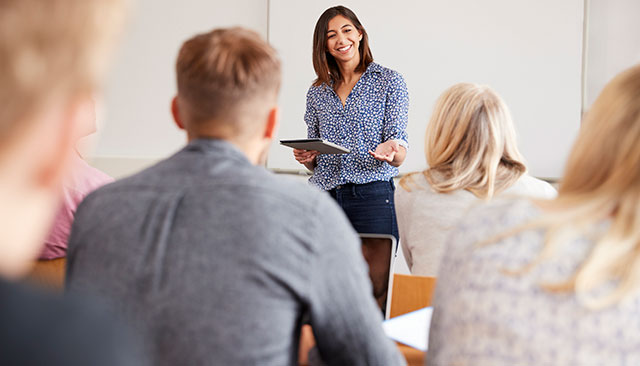 Become a Peer Facilitator
Would you like to become a peer facilitator for the Project on Civil Discourse?