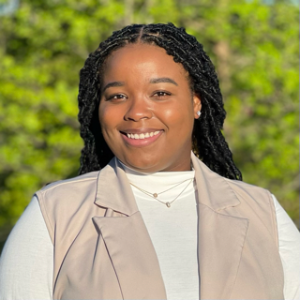 Gabrielle Harris

Adjunct Instructor SOE School of Education
Degrees

MS, School Counseling, Walden University
BS, Early Childhood Education, Delaware State University

Bio

Gabrielle Harris is a passionate educator who has worked with youth and young adults from a very young age. Mrs. Harris was a grade 1 elementary classroom teacher for the Baltimore County Public School System for over three years at a Title 1 school. She has also led, co- lead, and supported various youth programs within her community that have serviced children from ages 6 weeks to grade 12 over the years.

She has supported students at the collegiate level as a writing consultant, as a liaison for high school students at one of her internship placements with the local community college while completing her extensive school counseling internship experience, and now as an advisor for students in the CDA® program here in the School of Education. Altogether, Mrs. Harris' comprehensive knowledge and experience within the field of early childhood education along with the use of a social emotional learning lens as an educational counselor is how she seeks to support current and prospective students of the CDA program.
Fall 2023
EDU-073 Hlth/Safety/Nutr in Early Yrs