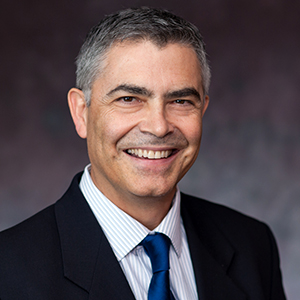 Angelo Ioffreda

Adjunct Professorial Lect Department of Public Administration and Policy
Bio

Angelo Ioffreda is the chief engagement officer and founder of io spark communications, a strategic communication and management consultancy based in Arlington, VA, whose purpose is to help individuals, teams, and organization find their unique spark and perform at a higher level. Serving as a thought partner and creative strategic advisor, Angelo helps organizations engage people and ignite performance. He works across organizational boundaries and cultures to create shared understanding and alignment of purpose, and believes in face-to-face dialogue and conversation as a means to engage people and create meaningful change.


As a consultant and in his prior corporate roles, Angelo has worked with senior leadership teams to drive business performance and innovation, and lead, manage, and navigate organizational change. He served as the president of the DC Metro Chapter of the International Association of Business Communicators, the largest in the U.S., during 2011, and has presented widely at conferences by The Conference Board, Melcrum, The International Association of Business Communicators, and Marcus Evans on a variety of communication topics.


Angelo has held communication leadership roles in a number of organizations, including NII Holdings, Inc., the World Bank Group, Sodexo, AOL Time Warner and AOL, Robinson, Lerer & Montgomery Strategic Communications, and the U.S. Department of State. Angelo has significant government experience. He joined the U.S. Department of State as a Presidential Management Fellow in 1984, and received several individual and team awards for his work. At State, he served in a variety of capacities including as Senior Watch Officer in the Operations Center, chief of staff to the U.S. Ambassador to Argentina, as a country analyst in the Bureau of Intelligence and Research, and as a member of State's Strategic Management Initiative team. Angelo has worked with government agencies such as CMS and FEMA in a consulting capacity.


Angelo has a MBA from the Wharton School, a M.A. in International Affairs from the University of Chicago, and undergraduate degrees in Anthropology (honors) and Biology from Grinnell College. He was a Presidential Management Fellow and a Thomas J. Watson Fellow. He has a certificate in Change Leadership and Organizational Consulting from Georgetown University, is certified in the MBTI and Strength Deployment Indicator (SDI) assessments, and is fluent in Spanish.
Summer 2022
PUAD-020 Leading through Public Mrktng: Leading thru Pub Mktg DOI 90
Spring 2023
PUAD-020 Leading through Public Mrktng: Leading thru Pub Mktg DHS92

PUAD-020 Leading through Public Mrktng: Leading thru Pub Mktg DHS93