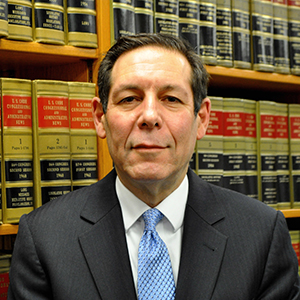 Mark Maxin

Adjunct Professorial Lect Department of Public Administration and Policy
Bio

Mark Maxin has over 30 years' experience in federal sector employment law, addressing critical issues involving equal employment opportunity, diversity, civil rights, bargaining and grievance rights, performance, and conduct problems in the workplace.

Maxin's work involves supervising lawyers litigating before U.S. Federal Courts, in a wide range of employment law, labor relations and EEO cases; the Equal Employment Opportunity Commission (EEOC) involving complaints and hearings involving allegations of discrimination; the U.S. Merit Systems Protection Board (MSPB), in adverse action, performance-based action and whistleblower cases; the Office of the Special Counsel (OSC) and the U.S. Department of Labor, relating to whistleblower complaints; and the Federal Labor Relations Authority, related to unfair labor practices and negotiability appeals. He has also served as legal counsel during collective bargaining and has extensive experience handling workplace harassment and reasonable accommodation issues.

Maxin served as counsel for labor relations (GS 15) at the U.S. Department of Labor from 1998-2004, where he received the Secretary of Labor's Distinguished Career Service Award. He is a member of the Senior Executive Service and currently serves as assistant general counsel for administration for the U.S. Nuclear Regulatory Commission, managing a team of lawyers in the areas of federal sector labor relations, employee relations end equal employment opportunity law.

Professor Maxin is an adjunct professor in the Key Executive Program, and currently serves as commissioner (previously chairman) of the Montgomery County Commission on People with Disabilities.
Spring 2022
HNRS-050 Honors Supplement

PUAD-026 Legal Issues in Public Admin: Legal Issues Pub Admin OE 84

PUAD-026 Legal Issues in Public Admin: Legal Issues Pub Admin DHS85

PUAD-026 Legal Issues in Public Admin: Legal Issues Pub Admin DHS 86

PUAD-026 Legal Issues in Public Admin: Legal Issues Pub Admin DHS 87

PUAD-026 Legal Issues in Public Admin: Legal Issues in Pub Adm OE 88

PUAD-616 Legal Basis of Public Admin
Summer 2022
PUAD-026 Legal Issues in Public Admin: Legal Issues Pub Admin DOI90
Fall 2022
PUAD-616 Legal Basis of Public Admin

SPA-085 Topics in Public Affairs: Bldng Harassment-Free Wrkplce