Achievements
Assistant Professor Khaldoun AbouAssi Receives Award for Public Affairs Research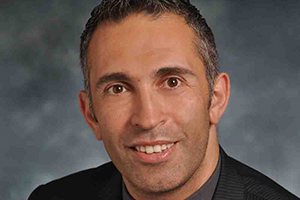 Khaldoun AbouAssi, assistant professor at American University's School of Public Affairs, is the recipient of the Robert Cleary Award for Excellence in Public Affairs Research. This annual prize, named in honor of SPA's emeritus professor Robert Cleary, is presented to an SPA faculty member for an exemplary research publication related to the nonprofit sector.
"I am honored to be receiving this award that commemorates the long service and dedication of Professor Robert Cleary to American University," said AbouAssi. "I'm also proud to be recognized by the SPA community for my nonprofit management research."
AbouAssi received the Cleary Award for work on the paper, "Nonprofits Resource Capacity: Antecedents for Partnerships." The research was published in the Summer 2016 issue of Nonprofit Management and Leadership. AbouAssi and his coauthors find that organizations generating adequate internal revenues are less likely to seek collaboration. He also found that those with sufficient human resource capacity and more technological resources are likely to collaborate. He also found that organizations with females in leadership positions are more likely to seek collaboration than would other organizations.
The Cleary Award was established by SPA through the generous support of an anonymous graduate of the School of Public Affairs. The gift honors Professor Cleary's many contributions to American University and SPA. In addition to his long and distinguished career as a faculty member, Professor Cleary also served the University as interim president, provost and dean of the school.
AbouAssi teaches public and nonprofit management courses at SPA, including Organizational Analysis and Grant Management. He has a Ph.D. in public administration from the Maxwell School of Syracuse University. AbouAssi also serves on the board of directors for the Association for Research on Nonprofit Organizations and Voluntary Action (ARNOVA).
For more information about AbouAssi, visit: http://www.american.edu/spa/faculty/abouassi.cfm