Government & Politics
America's First Ladies: In Service to Our Nation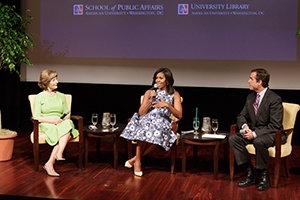 Since Martha Washington visited soldiers and knit their socks during winters of the Revolutionary War, America's First Ladies have supported military troops and their families.
American University School of Public Affairs and Library, along with the U.S. National Archives, the George W. Bush Institute, Joining Forces, the National Archives Foundation, the White House Historical Association, hosted a forum Sept. 16 to highlight their contributions over the years with First Lady Michelle Obama and Former First Lady Laura Bush headlining the event. The panel was moderated by ABC News journalist Bob Woodruff who was severely injured 10 years ago while embedded with service members in Iraq.
"I love shining a spotlight on First Ladies and their work. They have been engaged in very meaningful things and had to balance a public life with a private life," said Anita McBride, executive in residence at American University School of Public Affairs and chair of the conference. "Today's panel of First Ladies shows the continuity and the thread that binds all of them together - each of them as spouse of the Commander-in-chief. They feel the responsibility and the challenge to do right by the men and women who serve."
Nearly 300 people gathered at the National Archives in Washington, D.C., for "America's First Ladies: In Service to Our Nation," as part of AU's Legacies of America's First Ladies Initiative. This, the sixth conference in the series first launched in March 2011 at AU's School of Public Affairs, has led to a partnership with the National Archives Presidential Libraries, and academic and historical institutions to tell the stories of America's First Ladies.
Mrs. Obama spoke of her work with the Joining Forces initiative to rally behind service members, veterans, and their families, and how the exposure has fundamentally changed her.
"When you spend time on a base with the men and women and get to know their families, you don't just talk about war like there are no implications," she told the audience. "It's serious business and lives are changed forever."
Mrs. Obama she said she appreciates all the challenges military families face - with finances and moving - all while displaying grace and pride. "That's one of the reasons why I am such an advocate for this community," she said. "I will always champion these men and women and their families as long as I can breathe."
During her time at the White House, Former First Lady Laura Bush said troops being in harm's way was always on her mind.
"We were in the lap of luxury in a beautiful house where you get your sheets changed every single day. It couldn't be more luxurious," she said. "And our troops are laying down on the ground somewhere…You worry about them. All the time. Every single day."
Like Mrs. Obama, Mrs. Bush has visited soldiers recovering from injuries and was often struck by their resilience. She said she is grateful for the increasing public support for veterans and is pushing for more help as they transition out of active duty.
"Look at what an asset they are," said Mrs. Bush of post-9/11 vets. "These people who chose to serve and now they want to come home. It's up to the rest of us to figure out how to help them keep serving in our communities and make a life for themselves."
Barbara Romzek, dean of AU School of Public Affairs, said it was an honor to partner on this event, drawing attention to the US military veterans and service members.
"The School of Public Affairs has a long history of supporting our nation's heroes," she said. "Our newly expanded Yellow Ribbon program [tuition assistance for Post 9/11 veterans] is just one of the ways in which we are working to make higher education even more accessible and affordable for these deserving citizens."
Matthew Maguire said attending this event was exactly the sort opportunity he was hoping for when he chose to attend graduate school in Washington. Studying at AU in the justice, law, and criminology program, the 31-year-old U.S. Navy veteran, said the First Ladies sounded authentic in their support for veteran's issues.
"It was like they truly cared and it's something they want to keep working on," said Maguire, who aspires to be a federal law enforcement officer.
Also attending the forum was Julia Lopez, a 2010 graduate of AU with a degree in international relations now serving active duty with the U.S. Army in San Antonio. The 28-year-old who is training to be a social worker in the Medical Service Corps, said she was pleased to have attention focused on the challenges service members and their families face.
"To have such powerful public figures as the First Ladies use their platform to discuss [veteran's issues] is inspiring and meaningful for us," she said.
For more information about the First Ladies Initiative, visit: http://www.american.edu/spa/gov/first-ladies/