Achievements
Anita McBride Receives Ellis Island Award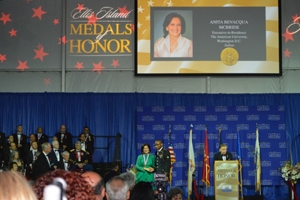 Anita McBride, executive-in-residence at the School of Public Affairs, received the Ellis Island Medal of Honor from the National Ethnic Coalition of Organizations on May 10.
She was honored alongside boxer Evander Holyfield, Ed Royce, Republican congressman and chair of the House Foreign Affairs Committee, and news anchor Maria Bartiromo for distinguished contributions within their own ethnic groups during a ceremony in the Great Hall on Ellis Island.
McBride, the former chief of staff to First Lady Laura Bush, directs programming on the legacies of America's first ladies and their influence on politics, policy and diplomacy at American University. She also co-founded the RAND African First Ladies Initiative and Fellowship program, which supports Africa's first ladies and their efforts to champion health and education reform.
In addition, she is a member of several organizations, including the U.S. Afghan Women's Council, J. William Fulbright Foreign Scholarship Board and White House Historical Association. She and Bartiromo serve on the board for the National Italian American Foundation (NIAF).
"Maria and Anita are two outstanding role models for the Italian American community and our nation," said NIAF president John Viola. "Their dedication, passion and leadership have inspired our board, staff and NIAF's family."
Previous recipients of the annual award include six U.S. presidents, Nobel Prize winners and leaders of industry, the arts, sports and government. Ellis Island, in Upper New York Bay, was the gateway for millions of immigrants in the first half of the 20th century.