Government & Politics
Two SPA Women Serve as Assistant Secretary of State, 45 Years Apart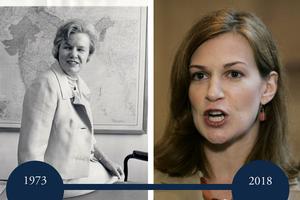 Someone with a black belt in martial arts and three teen and tween-aged children may be just the right person to work in a senior government position in fractious times. At least, that's what Nicole Nason, SPA/BA '92, is proving as she serves as the second AU School of Public Affairs alumna — and the first woman in more than 40 years — to hold the position of Assistant Secretary of State.
Appointed by President Trump in 2017, Nason is the Assistant Secretary for Administration and the acting director of Overseas Buildings Operations, placing her at the helm of thousands of employees in Washington and around the globe.
"It's like the backbone of the State Department," said Nason. "It's logistics management, it's everything from a leak in the roof of the headquarters building to problems with the cafeteria to all the overseas schools — it's everything that has to happen for State Department officials and diplomats to be able to do their jobs."
"I love the business of government," said Nason. "Some people find it really frustrating and irritating, but I think it is a challenge. Every time you see a big pile of red tape in front of you, that's a challenge. How do we cut that so that the taxpayers get their money's worth?"
Nason previously served as the head of the National Highway Traffic Safety Administration, where, in 2006, at age 36, she became the youngest person to be appointed to that position. And she has been well served by her study of karate, aikido, and other Japanese martial arts.
"The discipline of martial arts, and the experience of teaching martial arts, is so helpful in any aspect of anyone's life, particularly working in the government, because the number one thing you have to do is not quit — you have to keep pushing through to solve the problem," said Nason.
Today, Nason faces vastly different challenges as Assistant Secretary than those in previous decades. In 1973, SPA alumna Carol Laise Bunker, SPA/BA '38, became the first woman Assistant Secretary of State. Nason says that, historically, women's voices were seldom heard at the highest level at State.
"It was not easy for women in the 1970s," said Nason. "The State Department at the time, of all places, was really behind the curve in respecting and promoting women in the workplace. For a long time, it was the rule in the Foreign Service that if you got married, you had to quit."
But there were exceptions — notably, when Laise Bunker was appointed. She served as U.S. Ambassador to Nepal from 1966 to 1973 before becoming Assistant Secretary of State for Public Affairs during the Nixon and Ford administrations.
"I took, when I was in graduate school, one of the early professional examinations for admission to government service and passed it," said Laise Bunker in a 1985 interview with the Association for Diplomatic Studies and Training. "In those days, you didn't get into government except by being on competitive registers and by competitive examination. It was an examination very much like the Foreign Service examination today."
It took a year for Laise Bunker to be added to the registers for government service because, she said, "The registers did not move as far as women were concerned. That's one of the areas where I was conscious of the resistance to the appointment of women."
In that same interview, Laise Bunker also discussed what it was like to attend the senior-most trainings at the State Department and how infrequently women were included in the early 1970s.
"I think the total number [of those trained] at the time I was there was about 21," said Bunker. "At that time, there was only one woman every year. I didn't have the sense it was a token woman. I had a sense that, given the paucity of the numbers of women in the higher ranks, it just was not likely."
Five decades later, the ratio of men and women in leadership roles at the Department of State is now 50/50. Perhaps this is thanks to the outstanding work of women leaders such as Carol Laise Bunker and Nicole Nason, blazing trails for future women leaders to follow.
You can learn more about Nason's work in martial arts by watching her 2016 TEDxAmericanUniversity talk here. Read the full 1985 interview with Laise Bunker here.