Achievements
AU Political Science Honor Society Welcomes Inductees, Honors Achievements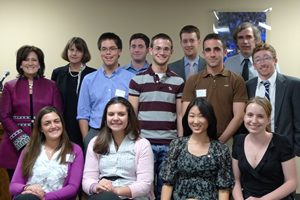 Hard work, big dreams, ideals, and public service. These themes rang out loud and clear at the School of Public Affairs's annual induction ceremony for the Beta Psi Chapter of Pi Sigma Alpha, the national political science honor society. The event also recognized the achievements of SPA Government Department honors students, winners of the second annual SPA Undergraduate Research Symposium, and senior capstone students.

This year, over 60 political science majors at AU were invited to join Pi Sigma Alpha. Students are selected to join based on their performance in at least 10 credits of work in political science courses and must be within the top third of their class.  

Assistant Professor in the Department of Government and Chapter advisor Chris Edelson sang the praises of SPA's multitalented students. "I am always amazed at how students like you are so active. You all have full course loads, are presidents of campus clubs, have internships, jobs on top of those internships, and still manage to do the reading for class."

Keynote speaker Anita McBride, former Chief of Staff to First Lady Laura Bush and Executive in Residence at SPA's Center for Congressional and Presidential Studies, commended the students and described her years in the White House as both challenging and fulfilling. She also advised students that their passion for public service may offer unimagined career paths.

"If you had told me all those years ago when I was a student in the Washington Semester that I would serve in the White House under three different presidents and be the top advisor for a First Lady, I would not have believed it," McBride said, recalling her AU roots.

Government Graduate Advisor Bob Briggs announced the 2010 inductees into Pi Sigma Alpha. The new members of the honor society, both graduate and undergraduate students, received certificates of achievement and honor cords. Briggs also announced the winners of the first ever Pi Sigma Alpha Essay Contest, for which entrants submitted essays on the topic of social responsibility. Senior Melissa Chang took first place.

Chair of the Government Department Todd Eisenstadt recognized senior Aaron Barnard-Luce, the winner of SPA's Amos Perlmutter Award which is given to an outstanding undergraduate student in comparative politics. SPA Associate Dean Meg Weekes recognized participants in the SPA Undergraduate Research Symposium and Assistant Professor Kimberly Cowell-Meyers honored senior capstone students.  

Pi Sigma Alpha was founded in 1920 and the American University Beta Psi chapter was chartered in 1954. The honor society is committed to stimulating scholarship and interest in political science. Currently, there are over 615 chapters established at colleges and universities in the United States.