Achievements
SPA Professor Receives Award for Teaching with Research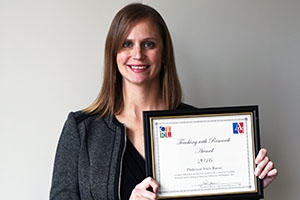 American University School of Public Affairs Assistant Professor Tricia Bacon has been recognized by AU for her excellence in teaching and research as part of the annual University-wide teaching and research awards.
"Showing my students how to interpret and learn from research has been an important tool," said Bacon. "It helps illustrate many of the points I make in my classes and it serves as a way to connect theory and impact."
Bacon received the award for incorporating innovative projects into her classes that teach students research skills. Specifically, she sought out ways to simulate the kind of research students need to do to be effective in careers in the counterterrorism.
AU's Teaching with Research Award recognizes faculty who creatively incorporate original student research activities into the course experience. Faculty are encouraged to mentor students to present their research at a local, national, or international conference, or to submit the work for publication.