Alumni
Bill Sweeney Shares Expertise in Campaigns and Elections as SPA Executive-in-Residence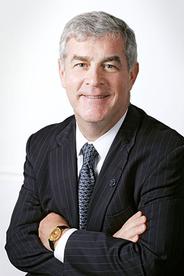 Bill Sweeney, BA/SPA '73, came to American University to be near the center of national politics and government. At the time, the campus was housing war protestors, and Sweeney discovered he had a knack for organizing who slept where.
"It turned into a lifetime of understanding how important logistics are and who sits where," said Sweeney, a new executive-in-residence at AU School of Public Affairs (SPA).
Sweeney spent his career in Washington working in politics and business. He served as deputy chairman of the National Democratic Committee, was executive director of the Democratic Congressional Campaign Committee, and was part of the management team for seven U.S. presidential inaugurations, from George H.W. Bush through Barack Obama. Sweeney was director of government relations for Electronic Data Systems, an information services company, and president of the public affairs consulting firm Washington Resources & Strategies.
Most recently, Sweeney worked as chief executive officer for the International Foundation for Electoral Systems (IFES), a nonprofit dedicated to aiding and supporting elections in new and emerging democracies. He has been involved in nearly 50 elections in countries from Afghanistan to Zimbabwe.
At IFES, Sweeney helped lay the groundwork in countries transitioning to democracies, getting infrastructure in place to run fair elections. For instance, after Myanmar had been under military rule for 30 years, Sweeney worked to transfer registries of citizens in handwritten notebooks to computerized records for the first democratic election, held in 2015.
Sweeney has remained involved in SPA throughout the years, most notably co-founding SPA's Campaign Management Institute, where he served as director from 1988 to 1992.
"We wanted a place where we could train undergraduates and elevate the art of campaign management," said Sweeney, who contributed to Campaigns and Elections, American Style and co-authored Campaign Groundwork: Strategy Planning and Management. Sweeney currently serves on the Kofi Annan Global Election Commission on Elections, Democracy and Security.
In his new role as an executive-in-residence, Sweeney will help organize a number of events, including one focused on voter suppression in Georgia during the 2018 election. He is also interested in exploring the impact of social media and solutions to outside influences on elections in the United States and Eastern Europe.
In future semesters, Sweeney might teach courses on political campaigns and voting rights. Sweeney recalls that during his time as an undergraduate political science student, he was pushed by his mentors to think critically and to recognize there might be more than one answer to a question. Although technology is changing the political environment, Sweeney maintains that regular conversations are needed to build relationships and trust in government.
"I really look forward to having a dialogue with people and value the questioning that happens on campus," said Sweeney. "It can force you to rethink issues in constructive ways."