Environment
Bridging the Rural-Urban Divide on Environmental Issues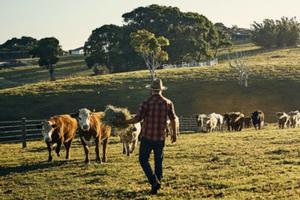 Whether Americans live in the city or the country, most share a concern for protecting the environment. Yet, there is a divide when it comes to which issues are most important to address and how to respond, with rural Americans generally less trusting of the federal government intervention.
Those findings from a recent report from Duke University were the topic of discussion among environmental experts speaking at an online webinar April 15 sponsored by the AU School of Public Affairs Center for Environmental Policy and moderated by Director Dan Fiorino. More than an issue of messaging, the panelists emphasized the need to listen and collaborate to bridge efforts to address environmental threats.
"There is something we can build on here. There is a foundation for a more unified approach," said William K. Reilly, former administrator of the U.S. Environmental Protection Agency, at the AU event. "We need to engage to deal with the sense, that many in rural areas have, that elites are writing and administering laws that don't take their views into account. That is something agencies in the government and people in the environmental community need to be sensitive to."
The good news from a national poll conducted by Duke in 2019 is that 71% of rural voters and 75% of urban/suburban voters said the environment and conservation were important to them personally, according to Robert Bonnie, executive in residence at Duke's Nicholas Institute for Environmental Policy Solutions. Indeed, rural respondents were well informed and indicated they are willing to make economic sacrifices to protect the environment.
What rural Americans don't trust is the ability of federal regulations to be fair and solve the problem. They prefer policies that are overseen by state or local government and that allow for collaboration.
"The fundamental cleavage we found in data is views about the government and preferred level of oversight," said Bonnie.
Brent Fewell, General Counsel, ConservAmerica, said rural Americans are willing to comply with hard policies, but they want to be consulted.
"Rural Americans want to be heard. They want officials to know even the smallest regulations have a big impact on the way of life in a small town," Fewell said. "Trust and credibility matter. People are willing to accept the decisions of public officials if they trust the decision makers and understand the science underlying those decisions."
Erin Fitzgerald, chief executive officer of U.S. Farmers & Ranchers Alliance, said labeling agriculture as "broken" in need of a system overhaul does not do much to build bridges. Agriculture can play a vital role in solving climate change, if resources are invested and farmers are approached as partners. she said.
"The farming sector cares deeply about stewardship. It's innate in their values. They want to leave the land better for the next generation," Fitzgerald said. "Sustainability is about doing the hard work to make the business model lineup for your community and the planet."
Because there is substantial skepticism in rural communities and the issues are complex around climate change, Fitzgerald said science needs to be at the forefront. Before adopting new techniques, farmers want to know the risk and payoff. "It's a tough time to be asking for change without the economic aspects included," she said.
Added Bonnie: "There is a reason for optimism: There is a strong conservation ethic and an interest in engaging -- but it is going to take talking with rural stakeholders in a different way."