Environment
CEP Hosts Third Webinar in Decarbonization Series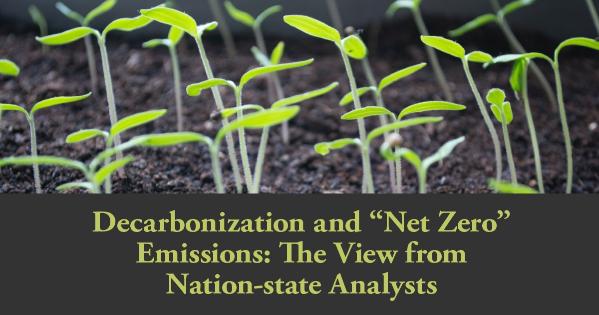 Are net zero emission pledges by governments and businesses empty promises or worthy aspirations? Is the world on track to meet carbon reduction goals to protect the future of the planet?
On April 9, climate policy experts discussed the complex landscape of setting and meeting targets to reduce carbon emissions at a webinar sponsored by the SPA Center for Environmental Policy (CEP). The event was the third in a series on pathways to a decarbonized economy hosted by SPA Professor Todd Eisenstadt.
This session focused on nation-state plans to reach net-zero – carbon neutrality, or the balance of greenhouse gas emissions with the absorption of equivalent amounts from the atmosphere – by 2050. Analysts reviewed progress in Europe, China, and the United States, and the need for transparency and accountability among leaders in their environmental efforts.  
They concluded that while climate ambitions are increasing, they fall short of the 40-60% emissions cuts needed to get the world on track for net-zero by 2060. UN officials and scientists consider this the vital target for limiting climate change in this century to 2 degrees Celsius (about 3.8 degrees Fahrenheit) over pre-industrial average planet temperatures.
 
The World Resources Institute reports that 58 countries, representing 54% of global greenhouse gas emissions, currently have a net-zero target for 2050 or 2060.
"There has been incredible progress and the benefits of addressing climate change are becoming increasingly well-understood," said Katie Ross, a research associate in its climate program. "It's no longer a question of economic growth versus climate action."
Still, she said, the world is not on pace to halve emissions by 2030 and reach net-zero by 2050. To improve the trajectory, governments should clearly define and communicate targets and next steps, and invest significantly in technology and infrastructure, Ross said.
In the U.S., the federal system has provided opportunities for innovation and competition among states on environmental policy, said CEP Director Dan Fiorino. A growing number of U.S. states have made net-zero carbon commitments, or pledges to use only renewable energy, by 2050. Because these issues have become highly polarized, support depends on careful messaging, such as framing the issue as clean energy.
"People seem to be more positive about the economic and environmental benefits of clean energy than climate mitigation. Partisanship makes a difference," Fiorino said.
Klaus Rohrig, energy policy coordinator at Climate Action Network (CAN) in Belgium, described the ambitious initiatives of the European Green Deal. Still, he said, recent emissions trends will not keep pace with 2050 carbon neutrality goals. Targets for renewable energies and energy efficiency should be increased, and laggard sectors such as industry, transport, and buildings should work to become more sustainable.
China also needs to ramp up its efforts to meet its decarbonization goal, said Joanna Lewis, provost's distinguished associate professor of energy and environment at Georgetown University. While China is expanding its use of wind and solar power, coal still makes up 60% of the county's energy production (down from 70% in 1990), and as the economy grows, the reliance on coal is rising again.
Weighing in from the private sector, Janet Peace, chief of advisory services at Blue Source, gave an encouraging snapshot of corporate commitment to reducing carbon emissions. Though the trillions of dollars needed to move to a more sustainable economic system will require more than any government can afford to offer, private companies are willing to invest if they see market opportunities.
"Companies are stepping up their game," Peace said. "Business leadership is really critical to the energy transition we need to address climate change. . . Many, if not most, very large companies are beginning to see climate change as the context under which they operate. It amplifies risk and provides opportunities. There has to be a business case."