Research
The Unintended Consequences of the U.S. Child Care Subsidy System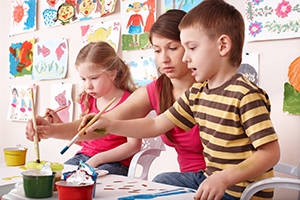 SPA Professor Erdal Tekin's recent study entitled "The Impact of Child Care Subsidies on Child Development: Evidence from Geographic Variation in the Distance to Social Service Agencies," was featured in the winter edition of the Journal of Policy Analysis and Management (JPAM). The study, co-authored by Associate Professor Chris Herbst from Arizona State University, examined how the use of child care subsidies influence a child's ability to succeed in school, both emotionally and cognitively.
The results of the study suggest that children receiving subsidized child care in the year before kindergarten score lower on tests of cognitive ability and reveal more behavior problems throughout kindergarten. The research also tracked child development beyond the kindergarten year and those results suggest that the impact of subsidy receipt does not persist beyond kindergarten.
"The main conclusion from our research is that, although U.S. child care subsidy policy is effective at increasing the work effort of low-skilled mothers, it is less successful at enhancing the health and well-being of children and families," Tekin said in an interview with the Association for Public Policy Analysis and Management.
Most public expenditures on child care subsidies are funneled through a program called the Child Care and Development Fund (CCDF), which was created alongside welfare reform in 1996. The goal of CCDF is to assist low-income, working families in obtaining child care so that they can work or attend training/education programs. Single mothers with a child care subsidy are free to choose any child care establishment that accepts subsidies, including in-home daycare and child care provided by a relative.
In related research that appeared in Health Economics in 2014, Professors Tekin and Herbst also examined the quality of the parent-child relationship as well as maternal health. Their findings again show that subsidized mothers are more psychologically and physically aggressive toward their children, and they are in worse mental and physical health than their unsubsidized counterparts.
"By evaluating various aspects of the U.S. child care system, we aim to provide a fresh contribution to the scholarly literature on child care subsidies as well as to the ongoing policy debate over the optimal design of the U.S. subsidy system," Tekin added.
Professor Erdal Tekin joined the School of Public Affairs in 2014. He is an economist with primary research interests in the fields of health economics and demographic economics. Tekin has written and published numerous articles studying the impact of child care subsidy and other major welfare programs on parental and child outcomes. He is also a research associate at the National Bureau of Economic Research (NBER) and a research fellow at the Institute for the Study of Labor (IZA). Additionally, he serves as an editor for the Journal of Population Economics and an associate editor for the IZA Journal of Labor Policy. Tekin holds a Ph.D. in Economics from the University of North Carolina at Chapel Hill, 2001; an M.A. in Economics from the University of Colorado at Denver, 1996; and a B.S. in Electronics and Telecommunications Engineering, Istanbul Technical University, 1994.