On Campus
American University Offers Furloughed Federal Workers a Day of Free Classes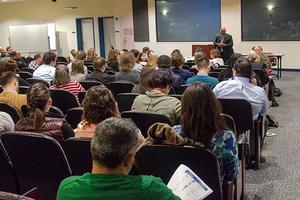 Matthew Garlipp, SPA/MPA '15, a furloughed federal employee with the U.S. Treasury Department, says he was glad to have something to put on his schedule for January 8. Garlipp was one of 550 federal workers who registered for SPA's Classes Without Quizzes – a free all-day event on AU's campus that featured 15 workshops and training sessions such as Workplace Mindfulness, How to Deal with Change, Project Management, and Kindness in Leadership.
"You can only run so many errands," said Garlipp, a Presidential Management Fellow in Washington, D.C., affected by the government shutdown. "It was fun to come back to campus. I liked the diverse mix — I went to an academic policy session on logic modeling, followed by one on how to start a podcast."
The AU School of Public Affairs (SPA), which planned and hosted the event, pulled the event together in less than a week.
"This was our chance," said SPA Dean Vicky Wilkins. "Helping federal workers is what we do – since our founding 85 years ago, our focus at the School of Public Affairs has been helping public servants advance their careers. The people we hosted for this event are so dedicated to their jobs and our country. I was thrilled that we were able to come together as a University to show our appreciation for federal workers."
In a session about mindfulness in the workplace, Colin Gerker, a performance consultant in the AU Office of Human Resources, began by thanking federal workers for their service, expressing empathy for their situation, and leading them in a guided meditation to music.
"I'm trying to find ways to take my mind off the anxiety of the shutdown," said Sean Farrell, a legislative affairs specialist with NASA, who attended the session eager to learn more about practicing mindfulness to manage stress.
A federal worker for 35 years, SPA's Senior Adjunct Professional Lecturer Reginald Wells said the gathering provided an important service for furloughed federal employees.
"Anything we can do to uplift them is a wonderful thing. Given the cutbacks in government, resources are tight and training in many agencies is the first thing to get jettisoned," said Wells, who led a session on emotional intelligence. "As I became more seasoned in leadership, I realized that's when you can least afford to jettison training and development."
Bill Spencer said he'd seen the AU offering promoted on social media and jumped at the opportunity, hoping to gain some new knowledge and, perhaps, get a refresher on management strategies.
"It feels like a day of professional growth, as opposed to waiting for the latest news," said Spencer, who has worked for the government for 33 years. "It's one thing to know you are taking time off. You can plan for that. It's another thing not to know when you are coming back."
The event was Lindsay Huusko's first time on the AU campus. She has worked on fair housing issues with the federal government since 2015 and welcomed the chance to meet other people and learn something new.
"I'm not one that wants to sit around at home," said Huusko. "I want to be out and working. To be honest, these are great classes. Even if I wasn't furloughed, I would take these classes to improve my skills."
Thank you to all the faculty, staff, and volunteers from across the American University Community that supported Classes Without Quizzes. Special thanks go to American University's School of Communications, Kogod Center for Business Communications, University Marketing and Communications, Development and Alumni Relations, Office of Information Technology, Human Resources, Parking and Commuter Services, University Police, Facilities, Audio Visual Services, Office of Campus Life, University Event Scheduling, MauiWowi Coffee DC, and La Prima.