On Campus
Climate Change in the Trump Era: A Look at Local Initiatives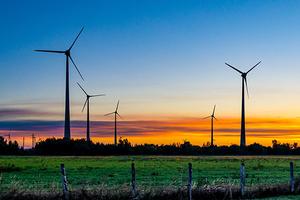 This month, diplomats from about 130 countries are gathered in Katowice, Poland, for COP 24, the latest in the annual series of climate change meetings convened under the United Nations Framework Convention on Climate Change. With the United States pulling out of the international Paris Agreement on climate change, there is now increased pressure at home in the U.S. for states, counties, cities, and businesses to work together to protect the planet.
During a panel discussion hosted earlier this month by AU School of Public Affairs' Center for Environmental Policy, officials from Washington, D.C., Maryland, and Virginia talked about what their local jurisdictions are doing to further promote sustainability.
"The Clean and Affordable Energy Act of 2008 set the stage for many policies that Washington, D.C. has adopted in the past decade," explained panelist Mary Cheh, a D.C. City Councilmember and chair of the Committee on Transportation and the Environment. "This has always been a legislative priority of mine."
From adding jobs in solar energy to buying electric buses, the city has taken a variety of steps to mitigate climate change in recent years. Cheh shared with the audience at the event that the city encourages residents to green their homes and make their property more sustainable with its energy savings assistance programs, funded by a fee placed on residents' electric bills. Last year, D.C. was the first city in the world to receive a special Leadership in Energy and Environmental Design (LEED) for Cities Platinum designation from the Green Building Council.
This week, on Dec. 18, the Washington, D.C., council passed a bill making the commitment to move to 100 percent renewable energy by 2023. While 90 other cities have announced plans to transition to renewable energy, many of them have a goal of doing so by 2030, but Washington, D.C., is the first to announce such a comprehensive plan in such a short time period.
"The District is a pacesetter with its environmental practices, creating a friendly competition with surrounding local governments," said John Morrell, also a speaker on the panel. Morrell is the energy manager in the Office of Sustainability & Environmental Management in Arlington County, Virginia. The county was named the first LEED Platinum level community (as opposed to city), but Morrell explained that enacting new programs is difficult with the state's "limited rule" approach to governing.
"We can't do anything as localities unless the state grants us the authority to do it," said Morrell. "We see it as a challenge to be creative."
Morrell hopes Amazon.com's decision to expand in Arlington will accelerate efforts to expand renewable energy and be a lever to help green Virginia. The county plans to revisit its community climate plan next year and make its energy grid cleaner and cheaper using more solar energy.
Meanwhile, in Montgomery County, Maryland, officials declared a "climate emergency" last year and have developed an aggressive plan to reduce its carbon emissions by 80 percent by 2027. The council unanimously passed a resolution in 2017 that calls on other governments and the county "to use all available powers and resources" to reach the goal. It instructs the county executive, the local school system, and the parks and planning department to advise the council on methods they plan to use to meet the goal.
The county has already reduced those levels by 14 percent while its population increased by nearly 11 percent to nearly 1 million, according to Eric Coffman, who also spoke as part of the panel discussion. Coffman is the chief of the Office of Energy and Sustainability for Montgomery County.
The county used a tax bill to finance improvements on energy-efficient buildings, allowing owners to spread out the cost over time. It also replaced 25,000 streetlights with LED lighting and has set up its public safety headquarters to run on its own "microgrid."
"It is not a small lift," said Coffman. "We have to be not afraid to take risks."
The AU School of Public Affairs Center of Environmental Policy convened the panel in partnership with Global Peace Services USA, a Washington, D.C. Area educational and research nonprofit organization.