Government & Politics
Government Professor Accompanies Congressional Delegation to Ireland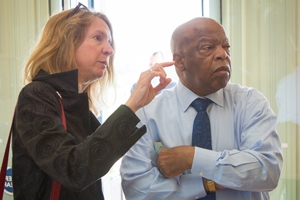 Kimberly Cowell-Meyers, assistant professor of government, recently accompanied Georgia Representative John Lewis, Hawaii Senator Mazie Hirono and Maryland Governor Martin O'Malley on a trip to Northern Ireland focusing on sharing stories and lessons of peace and reconciliation. There is a long history of interaction between nationalists in Ireland and African-Americans, going back to Frederick Douglass, who fled the United States after his first book, Narrative of the Life of Frederick Douglass, an American Slave, was published. Daniel O'Connell, an Irish nationalist and emancipator, helped Douglass internationalize the struggle against oppression by connecting the abolition and Irish home rule movements.
| | |
| --- | --- |
| Martin Reilly, Lord Mayor of Londonderry; Nobel Laureate John Hume; Rep. Lewis; and Mark Durkan, MP for Foyle, cross the peace bridge in Londonderry/Derry. | Cowell-Meyers with Senator Mazie Hirono, left, and Anna Lo, Member of the Legislative Assembly for Belfast South. |
The 1960s civil rights movement in Northern Ireland that led to the Troubles was sparked by the civil rights movement in the American South. "While we were in Ireland and Northern Ireland, we met with many people of courage, conscience and compassion who have sought to bridge political, religious and economic divides, including political, community, faith and business leaders," said Cowell-Meyers.
| | |
| --- | --- |
| Cowell-Meyers walking across the peace bridge with John Hume. | The entire delegation at the Douglass Mural on the peace wall in West Belfast. |
The trip was arranged by the Faith & Politics Institute, and included stops in Dublin, Londonderry/Derry and Belfast. Rep. Lewis delivered the inaugural Douglass-O'Connell lecture at Iveagh House, which is the Foreign Affairs Office in Dublin. His likeness is now part of the Frederick Douglass mural in Belfast.