On Campus
David DeFusco Named Assistant Dean of Strategic Communications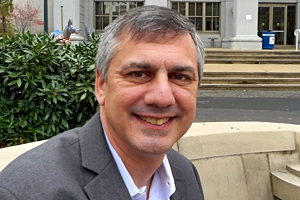 David DeFusco, who ran the communications office at the Yale School of Forestry & Environmental Studies for over a decade, has been appointed Assistant Dean of Strategic Communications and Outreach for the School of Public Affairs at American University.
DeFusco will be part of the Dean's senior leadership team and will lead the school's communications and marketing efforts. He will be responsible for developing a strategic communications plan, and creating marketing and branding strategies.
He will also manage the school's web and social media presence, write speeches, prepare annual reports and institutional grant proposals, plan special events, and assist the university's central communications office with media relations.
"Current events highlight the importance of cultivating leaders for roles in public affairs for our nation and for communities across the globe. The very notion of public service is being put to the test. So outreach and visibility for schools of public affairs are crucial to their success," said Dean Barbara Romzek. "We welcome Dave's experience managing a topflight communications program to raise public awareness of our vital role in producing research that policymakers use."
The School of Public Affairs ranks consistently among the top schools of public affairs in the nation, and awards degrees in political science; public administration; public policy; and justice, law and society. Established in 1934, the school houses three academic departments: Public Administration & Policy; Government; and Justice, Law & Society, as well as 10 centers and institutes, including the Washington Institute for Public & International Affairs Research, Center for Congressional and Presidential Studies, and Women & Politics Institute.
At Yale, DeFusco was the Director of Media Relations and Outreach for their School of Forestry & Environmental Studies. He was the institutional spokesperson and developed a strategic communications plan that positioned the school as a global leader in research and policy.
He was a ghostwriter for the Dean, wrote press releases promoting faculty and student research, and established the school in social media. An innovator in the production and dissemination of digital content, he co-produced dozens of videos promoting environmental science, and was appointed to Yale's Digital Dissemination Task Force that digitized the university's scholarly assets.
In addition, he created and edited the school's magazine, Environment Yale, and oversaw its digital conversion. It was nominated for a 2011 Utne Reader Independent Press Award for Environmental Coverage, and cited for "in-depth reporting and excellent storytelling."
DeFusco holds a master of fine arts degree in creative writing and a bachelor's degree in finance from Fairfield University.